Monday, December 4 2000,
Chandigarh, India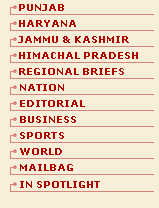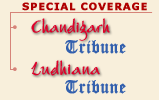 S P O T L I G H T
CM orders probe against himself
AMBALA, Dec 3 (PTI) — The Haryana Chief Minister, Mr Om Prakash Chautala, here today directed the state police to investigate the charges levelled against him by the leader of the BJP Legislature Party in Haryana, Mr Krishanpal Gujjar. The Chief Minister said he would quit if these charges were proved true. About the fallout of the utterances made by Mr Gujjar, he made it clear that it was an internal affair of the BJP to take any action. No worker of the INLD had ever spoken any word against any BJP leader, he claimed.
Gujral taken ill
KATHMANDU, Dec 3 (UNI) — Former Prime Minister Inder Kumar Gujral, here in connection with the first meeting of the Citizen's Commission for South Asia (CCSA), was taken ill early morning and hospitalised. Mr Gujral, 81, arrived here on Friday in connection with the inaugural meeting of the CCSA of which he is the Chairman and had been maintaining a hectic schedule since then.
3 die in fire
NEW DELHI, Dec 3 (UNI) — Three persons were killed and about 800 hutments gutted in a fire at the Yamuna Pushta area of North East Delhi in the early hours today. Delhi Fire Service sources, which described the fire as of medium category, said it was reported at 00.15 am and it took more than 25 fire tenders about four hours to put out the blaze by 4:10 a.m.
Mamata must quit: CPM
NEW DELHI, Dec 3 (PTI) — The CPM today demanded immediate resignation from Railway Minister Mamata Banerjee over the rail accident in Fatehgarh Sahib district of Punjab yesterday. "The long sequence of the rail accidents has laid bare the gross incompetence of the government in the matter of railway traffic and maintaining safety and security. These accidents bear testimony to the ad hocism being perpetuated in the management of Railways," a party press note said.