Monday, December 4,
2000,
Chandigarh, India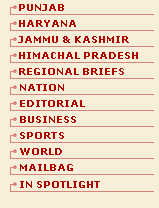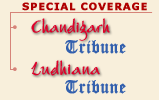 C H A N D I G A R H
Disability no deterrent for them
PANCHKULA, Dec 3 — Disability seemed no deterrent as 70 handicapped children, lived up to the spirit of "their day", the World Disabled Day, and participated in various contests organised at Saket Hospital, here today.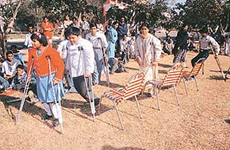 Handicapped children participate in a contest on World Disabled Day at Saket Hospital, Panchkula, on Sunday.— Tribune photo by Parvesh Chauhan
World Disabled Day as protest day
CHANDIGARH, Dec 3 — The Punjab branch of the National Federation of the Blind (NFB) today observed the World Disabled Day as protest day against the indifferent attitude of the Punjab Government with regard to its long-pending demands.
3 rail mishap victims die in PGI
CHANDIGARH, Dec 3 — Three Rajpura rail mishap victims succumbed to their injuries after battling for life for more than 24 hours at the PGI here today.
Stolen child back in mother's lap
December 3, 2000
Enthusiastic response to Agro Tech 2000
December 2, 2000
Travelling by auto, taxi? Get ready to pay 41 pc more
December 1, 2000
Punjab CM's kin grabs land, say villagers
November 30, 2000
House owners don't have to inform about tenants
November 29, 2000
Kulwant Singh elected SAS Nagar MC chief
November 28, 2000
House allotment not by rules alone
November 27, 2000
Police to book minors driving vehicles
November 26, 2000
Ballot papers torn to sabotage meeting: Opposition
November 25, 2000
Scuffles mark MC meeting to elect president
November 24, 2000