THE TRIBUNE MAGAZINES
On Mondays


On Sundays

On Saturdays

Dangi remanded in judicial custody
ROHTAK, Dec 4 — Former Revenue Minister Anand Singh Dangi, who surrendered in the court of Special Judge Shiva Sharma, here today, has been remanded in judicial custody till December 18.
HP minister quits; crisis over
SHIMLA, Dec 4 — The 10-day crisis, which gripped the Dhumal government in the wake of revolt by three ministers and as many legislators, ended with the resignation of the controversial Public Works Minister, Mr Mohinder Singh, here today.
HER WOR(L)D
IN PASSING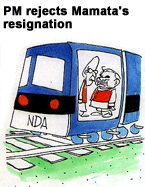 Thank God. You have saved NDA train from being derailed!

US apex court upholds Bush view
WASHINGTON, Dec 4 — In a major setback to Democrat Presidential hopeful Al Gore, the US Supreme Court today overturned a Florida court ruling extending the deadline of manual recount of ballots.
Postal strike from today
NEW DELHI, Dec 4 — Postal services across the country are likely to be affected as employees of the department will go on an indefinite strike seeking higher wages and benefits.
Shorter, quicker flights to Canada
CHANDIGARH, Dec 4 — In October next year when Canada 3000 introduces flights to New Delhi and Mumbai from Toronto and Vancouver, these will be routed through the North Pole and take three to five hours less than the conventional flights.
Dalai Lama's kin visits China
DHARAMSALA, Dec 4 — The significant meeting between a brother of the Dalai Lama and Chinese officials in Beijing recently has opened the channel of communication between the spiritual leader and the Communist regime.



Was rail track defective?
Fault in manufacture by SAIL detected
JEEWANPURA (Fatehgarh Sahib), Dec 4 — Two small pieces of the railway line which were once part of a single line of the track on which the derailment took place here on December 2 hold the key to the cause of the train collision as they carry tell-tale signs of defective manufacture.
4 more bodies extricated
December 4, 2000
40 die, 135 hurt in rail mishap near Rajpura
December 3, 2000
Man intrudes into Naval chief's house
December 2, 2000
Talwandi replaces Bibi
December 1, 2000
Decision left to Badal
November 30, 2000
Blast mars first day of ceasefire
November 29, 2000
Guns fall silent in Kashmir
November 28, 2000
4 jawans die in ambush
November 27, 2000
Dhumal faces revolt
November 26, 2000
Bibi fails to convince CBI
November 25, 2000
No going back on ceasefire
November 24, 2000
5 truckers shot near Banihal
November 23, 2000