Tuesday, December 5, 2000,
Chandigarh, India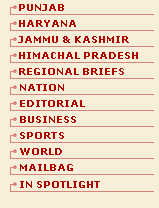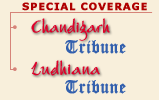 S P O T L I G H T
Venkataraman turns 91
new delhi, Dec 4 (UNI) — A large number of dignitaries, including President k. r. narayanan and Vice-President Krishan Kant, greeted former President R Venkataraman, who turned 91 on Monday. Among others who called on Mr Venkataraman were former Prime Minister p. v. narasimha Rao, Union Human Resource Development Minister Murli Manohar Joshi, Leader of the Opposition in the Rajya Sabha Manmohan Singh, Planning Commission Member k. v. subrahmanyam, industrialist b. r. nanda and former Union Petroleum Minister v. k. ramamurthy.
Driver dies as bus falls into gorge
dehra dun, Dec 4 (UNI) — Thirty passengers of a state roadways bus had a providential escape when the vehicle plunged into a gorge, killing the driver. The passengers, bound for Dehra Dun, boarded the bus at Gandhi Chowk in Mussoorie on Saturday. Since the vehicle was not starting, driver Mohammed Ishaq requested them to get off and push it. Once it was in motion, it gathered momentum descending down the road. The driver lost control, brakes also failed and the bus fell into the 200-ft-deep gorge.