Tuesday, December 5, 2000,
Chandigarh, India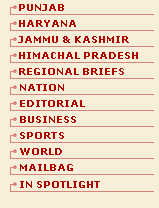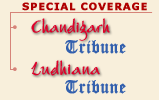 S P O R T S
Sriram may replace Sodhi
AHMEDABAD, Dec 4 —Having taken a one-zero lead in the five-match series, India are likely to opt for the left arm spin of S. Sriram rather than Reetinder Singh Sodhi's medium pace as they take on Zimbabwe in the second one-day cricket international at Motera here tomorrow.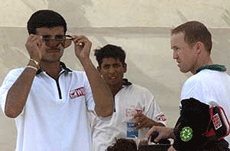 Indian cricket captain Saurav Ganguly (L) checks out the sunglasses of Zimbabwe cricketer Andy Flower (R) as Indian cricketer Shiv Sundar Das looks on during a practice session on the eve of the second one-day match between the two countries in Ahmedabad on Monday. — Reuters photo
Suspensions to life bans on cards
NEW DELHI, Dec 4 — Punishments ranging from two or three years of suspension and ban for life are on the cards when the disciplinary committee of the cricket board meets in Chennai tomorrow in the backdrop of betting and match-fixing scandal.
Aussies record 12th win
December 4, 2000
India beat Zimbabwe by three wickets
December 3, 2000
Sodhi to make debut today
December 2, 2000
England lose three quick wickets
December 1, 2000
Flower frustrates India
November 30, 2000
Campbell, A. Flower bolster Zimbabwe
November 29, 2000
Resolute batting by Zimbabwe
November 28, 2000
Sachin toys with Zimbabwe attack
November 27, 2000
Das scores maiden Test ton
November 26, 2000
Zaheer to replace Kartik
November 25, 2000