Monday, December 11, 2000,
Chandigarh, India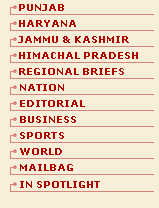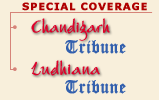 P U N J A B
NSS activities come to halt
Punjab gobbles up Central grant
BATHINDA, Dec 10 — The activities of National Service Scheme (NSS) units in various schools and colleges of the state have come to a complete halt as no monetary grant has been given to these units for the past two years by the authorities concerned.
PSEB retracts order to abolish posts
BATHINDA, Dec 10 — The Punjab State Electricity Board (PSEB) authorities have withdrawn the notification issued by it last month for abolishing about 6,700 posts belonging to different cadres.
UK grant for World War II prisoners
AMRITSAR, Dec 10 — The British Government has announced an ex-gratia payment of £10,000 (6.7 lakh) to the surviving members of those ex-servicemen and women who served the crown and were held prisoner by the Japanese during the World War II.
Mob bashes up scribes, lensman
JALANDHAR, Dec 10 — Two journalists and a photographer were bashed up by a mob who had smashed open a gate, demolished a wall and illegally built a wall of their own in a bid to forcibly takeover a piece of land in nearby Paragpur village today in spite of court's injunction till December 15.
Meeting on WTO treaty fallout on Dec 22
BHAGIBANDAR (Bathinda), Dec 10 — Punjab Finance Minister Kanwaljit Singh today said an empowered committee of eight state Finance Ministers would meet on December 22 at Delhi to work out a policy to deal with the ill-effects of the implementation of the World Trade Organisation (WTO) treaty.
1 more woman shifted to Patiala
December 10, 2000
PGPC issue: Bitta to back Talwandi
December 9, 2000
Striking PSEB men face action
December 8, 2000
Primary school promotion rules changed
December 7, 2000
Will Talwandi restore confidence of Sikhs?
December 6, 2000
Who did it? Punjab, HP cops differ
December 5, 2000

Redefinition of 'Sikh' may annoy Sindhis
December 4, 2000

Talwandi 'barking up wrong tree'
December 3, 2000

Harpreet case accused gets pre-arrest bail
December 2, 2000

Badal takes calculated risk
December 1, 2000