Monday, December 11, 2000,
Chandigarh, India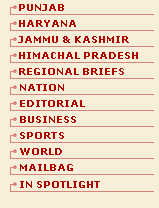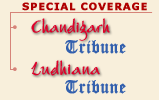 S P O T L I G H T
Minister dismissed
PONDICHERRY, Dec 10 (UNI) — Pondicherry PWD Minister P. Kannan was today dismissed from the Shanmugham Cabinet for "violating the principle of collective responsibility of the Cabinet'', and for acting against the oath of office and secrecy he had taken while assuming the office. Chief Minister P. Shanmugham told newsmen here that he had called on Lt Governor Rajani Rai this evening and submitted a letter requesting her to drop Mr Kannan from the ministry.
Red alert in UP
LUCKNOW, Dec 10 (UNI) — The UP Government has sounded a "red alert" in all sensitive districts following a series of communal clashes at Rae Bareli and Moradabad. Patrolling has been intensified in these areas, DGP M.C. Dwivedi said here today. The DGP said RAF and PAC had been deployed there to prevent any untoward incident. The authorities in Aligarh and Rampur had been directed to be fully alert.
10 hurt in clash
JAIPUR, Dec 10 (PTI) — Ten persons, including two women and three policemen, were today injured when members of two communities clashed throwing stones at each other following a tiff over a cricket match and an eve teasing incident here, police said.
CPM blamed
KOZHIKODE, Dec 10 (UNI) — A five-member team deputed by the BJP's central leadership today blamed the CPM for the violence in Kannur district of Kerala which claimed six lives and left about 40 injured in the first week of this month.