THE TRIBUNE MAGAZINES
On Mondays


On Sundays

On Saturdays

1 killed, 22 hurt in J&K blasts
SRINAGAR, Dec 11 — One person was killed and at least 22 persons were injured in two separate explosion in Srinagar and Budgam districts today, while four others were killed and two injured in separate incidents of violence in Jammu and Kashmir since yesterday.
India should agree to terms for talks: Pak
NEW DELHI, Dec 11 — Pakistan today said India should follow up its unilateral ceasefire announcement by agreeing to a set of modalities for talks with all the concerned parties to find an amicable solution to the vexed Kashmir issue.
IN PASSING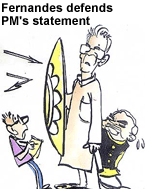 Lone: peace depends on India's response
NEW DELHI, Dec 11 — Senior Hurriyat Conference leader Abdul Ghani Lone today said vested interests in both India and Pakistan are trying to scuttle the peace process in Kashmir but its success depends upon New Delhi's positive and progressive attitude.
SC hears Bush-Gore arguments
WASHINGTON, Dec 11 — The US Supreme Court began hearing arguments today in a case that could decide the next President, with lawyers for Republican George W. Bush and Democrat Al Gore disagreeing over whether hand counts of Florida ballots should resume.
Another case against Bibi
AMRITSAR, Dec 11 — Yet another case for recovery of Rs 51 lakh has been filed against Bibi Jagir Kaur, former SPGC President, by an Akali leader, Mr Harbhajan Singh Brar, in the Sikh Gurdwara Judicial Commission.
Litmus test for Talwandi
SGPC executive meets today
AMRITSAR, Dec 11— The SGPC executive meeting, scheduled for December 12 and 13, will be a litmus test for newly appointed President Jagdev Singh Talwandi as some ticklish issues like appointment of Giani Puran Singh and reviewing sending of Sikh jathas to Pakistan are likely to dominate the proceedings.
Sharif, family exiled to Saudi Arabia
December 11, 2000
Govt ready to discuss issue under Rule 184
December 10, 2000
Allies want PM to withdraw remark
December 9, 2000
Turmoil in Houses over PM's remark
December 8, 2000
3 ministers not to resign: Vajpayee
December 7, 2000
DGP Rathore in the dock
December 6, 2000
Mamata resigns, Vajpayee declines
December 5, 2000
4 more bodies extricated
December 4, 2000
40 die, 135 hurt in rail mishap near Rajpura
December 3, 2000
Man intrudes into Naval chief's house
December 2, 2000