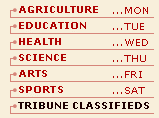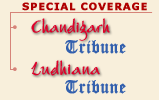 Panel summons RSS chief, Basu
NEW DELHI, Dec 12—The RSS chief, Mr K.S. Sudarshan, who had surprised many by stating that the disputed structure was brought down by a bomb on December 6, 1992, was today issued summons by the Justice M.S. Liberhan Commission, probing the sequence of events leading to the demolition of the structure at Ayodhya.
Strike hits power supply
CHANDIGARH, Dec 12 — People in many parts of Punjab and the Union Territory of Chandigarh had to go without electricity as powermen went on a 24-hour strike this morning along with their counterparts in the country in protest against the proposed Power Bill-2000.
SGPC meeting skirts key issues
AMRITSAR, Dec 12 — Even as Mr Harbans Singh Manjpur, executive member belonging to the Sarb Hind Shiromani Akali Dal, raised objections on alleged irregularities and misappropriation of funds committed during the tenure of Bibi Jagir Kaur, many items on the agenda of the SGPC executive meeting held here today were kept pending till tomorrow.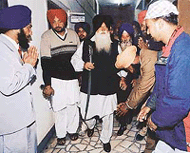 Supporters seek the blessings of the SGPC President, Mr Jagdev Singh Talwandi, after the first SGPC Executive Committee meeting in Amritsar on Tuesday.
— Tribune photo by Pankaj Sharma