Thursday, December 14, 2000,
Chandigarh, India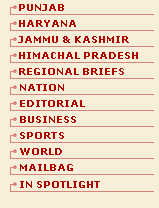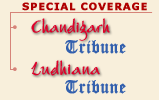 E D I T O R I A L P A G E
| | | |
| --- | --- | --- |
| | EDITORIALS | |
Disadvantage public
India cannot afford work stoppage in this era of privatisation and globalisation. It has to develop hyper-sensitivity to any call for striking work by the employees of any department, irrespective of its significance. Strikes send a disturbing signal to potential foreign investors, institutional or non-institutional.
All idealism, no realism
IF the USA can do it, why not India? This is the philosophy behind the draft of the Fiscal Responsibility Bill being readied for tabling in Parliament. The USA converted a fiscal deficit of 6.1 per cent to a surplus within 15 years. India's corresponding figure is 5.1 per cent and the government wants to compress this to 3 per cent of the GDP (gross domestic product) in five years.
Ganguly's misconduct
Habits die hard, and bad habits seem to take even longer to die. Saurav Ganguly's first exposure to international cricket in 1992 had earned him the reputation of being a spoilt brat. His illustrious career, both as player and captain of the Indian cricket team, received yet another self-inflicted wound in the fourth one-day game at Kanpur against Zimbabwe.
Problems can wait, we are parliamentarians!
December 13, 2000
Custodial violations
December 12, 2000
Thaw in PM's stand
December 11, 2000
Bhopal gas disaster
December 10, 2000
Paralysed Parliament
December 9, 2000
Sharpening a controversy
December 8, 2000
Enron's power burden
December 7, 2000
All aboard peace wagon
December 6, 2000
Resignation gesture
December 5, 2000
Death at 70 kmph
December 4, 2000
Security Council reform: The long wait continues
December 3, 2000