Thursday, December 14, 2000,
Chandigarh, India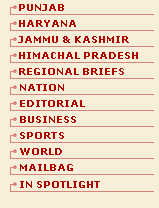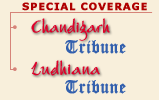 S P O T L I G H T
15 killed in road mishap
CHENNAI, Dec 13 (UNI) — At least 15 persons were killed and more than 25 injured when a tourist bus from Andhra Pradesh fell into a lake after colliding with a sugarcane-ladden truck at Singarampettai in Dharmapuri district of Tamil Nadu this afternoon.
2 burnt to death
DUBAI, Dec 13 (PTI) — Two youths from Kerala were burnt to death in a fire that broke out in labour camp at Sonapur in Dubai's Qussais area yesterday, reports said today. It said more deaths were averted as one of the occupants of the camps screamed for help, alerting those sleeping inside soon after the fire started early in the morning.