Work resumes in Delhi
Cracks appear in postal strike
NEW DELHI, Dec 16 — Cracks have appeared among the Postal strikers as all 575 post offices in the national Capital functioned normally today while elsewhere in the country the 12-day strike continued paralysing mail services.
Salman, Bharat interrogated
MUMABI, Dec 16 — Salman Khan, hero of the controversial film 'Chori Chori Chupke Chupke', its director duo Abbas-Mastan and financier Bharat Shah today appeared before the Crime Branch in connection with the arrest of the film's producer Nasim Rizvi for his alleged links with the underworld.
THE TRIBUNE MAGAZINES
On Mondays


On Sundays

On Saturdays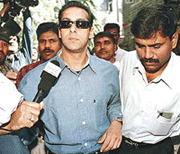 Security tightened for Hrithik, family
MUMBAI, Dec 16 — The police has tightened security for Hindi cinema's actor Hrithik Roshan and his producer-director father Rakesh following the revelations of an underworld plot to harm them.
(Nation page)


Film star Salman Khan is escorted by the police as he arrives for questioning at police HQ in Bombay on Saturday. — Reuters photo

Youths attack Manoj's house
NEW DELHI, Dec 16 — Seven unidentified youths tried to barge into the flat of former cricket all-rounder, Manoj Prabhakar in Nehru Enclave in South Delhi and assaulted the security guard deployed outside the complex.
NHRC issues notices to DC, police officers
KARNAL, Dec 16 — The National Human Rights Commission has issued notices to the Karnal Deputy Commissioner, Mr Devender Singh, the district police chief, Mr A.S. Ahlawat, Mr K.K. Rao, DSP, Karnal, and Mr Rattan Singh, DSP (Assandh), to appear before the Commission in person on January 3, 2001.
Pay bills or no development: CM
MEHAM, Dec 16 — The Chief Minister, Mr Om Prakash Chautala, today said today that outstanding power bills would not be waived under any circumstance.
BJP gets tough with allies
December 16, 2000
Cong censure motion defeated
December 15, 2000
Bush emerges winner
December 14, 2000
Govt relents on Ayodhya
December 13, 2000
Discussion under Rule 184 rejected
December 12, 2000
Sharif, family exiled to Saudi Arabia
December 11, 2000
Govt ready to discuss issue under Rule 184
December 10, 2000
Allies want PM to withdraw remark
December 9, 2000
Turmoil in Houses over PM's remark
December 8, 2000
3 ministers not to resign: Vajpayee
December 7, 2000
DGP Rathore in the dock
December 6, 2000
Mamata resigns, Vajpayee declines
December 5, 2000