Thursday, December 21, 2000,
Chandigarh, India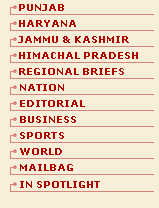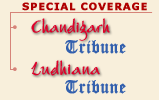 S P O T L I G H T
9 ultras killed in Manipur
IMPHAL, Dec 20 (UNI) — Nine suspected underground militants were killed and four apprehended in three encounters with the security forces in Manipur today, the police said. The youth, belonging to an underground outfit, were operating in both the Imphal valley and southern hill areas. Arms, including automatic weapons, and ammunition were seized.
14 die in Lanka
COLOMBO, Dec 20 (AFP) — Fresh fighting in Sri Lanka's north-east left at least 14 persons killed while the security forces unearthed more than 600 anti-personnel mines during a single search, defence officials said today. Eight members of the Liberation Tigers of Tamil Eelam and four soldiers were killed in separate clashes while two civilians were gunned down by suspected Tiger rebels, the defence ministry said.