Monday, December 25, 2000,
Chandigarh, India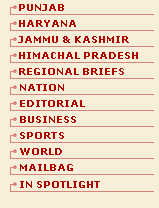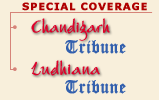 S P O T L I G H T
Pakistan ready for talks
NEW DELHI, Dec 24 (PTI) — Pakistan today said situation along the Line of Control LoC was "more promising" than in the ''recent past" and it was ready for talks with India. "The situation does seem to be promising that it has been for some time," Pakistan High Commissioner to India Qazi Ashraf Jehangir told Star News during a discussion programme. Mr Jehangir said Pakistan was ready for talks which, according to him, should be "unconditional." On whether Pakistan can be trusted for sincerity in peace talks, Mr Jehangir said "Trust must emerge from a negotiating process in which we address each other's concern no matter how different our perspectives are with respect to the problem".
President, PM greet nation on Christmas
NEW DELHI, Dec 24 (PTI) —President K. R. Narayanan today greeted the country on the occasion of Christmas. In a message, he said "May the Christmas bells ring in us the message of Jesus, of love and compassion and the candles we light illuminate our path towards peace and prosperity and good will among all". Prime Minister Atal Behari Vajpayee today greeted the nation on the occasion of Christmas. In an official statement, he said the eternal message of Jesus Christ of love and compassion for the entire mankind had greater relevance in today's world. Occasions such as Christmas reminded mankind of the virtues of sacrifice and goodwill, he added.
MCC kills villager
DALTONGANJ (Jharkhand), Dec 24 (PTI) — Armed activists of the banned Maoist Communist Centre (MCC) yesterday abducted a villager from Bardiha village under Panki police station in Jharkhand's Palamu district and later slit his throat, the police said today. Police sources said the body of the villager was recovered from a canal this morning. Meanwhile, the Palamu district police has nabbed Gopal Rajwar, an active member of the People's War Group, from his village, Nadipar.
Hooch takes 2 lives
VIJAYAWADA, Dec 24 (UNI) — Two persons died after consuming cheap liquor from a licensed wineshop here today. The police said the duo, Appa Rao (55) and Y. Venkataswamilu (48), both friends, vomited and collapsed half an hour after they consumed the liquor. While Appa Rao died on way to hospital, Venkataswamilu died in hospital. The police has taken the wine shop owner into custody for questioning.