Monday, December 25, 2000,
Chandigarh, India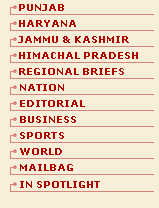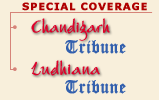 C H A N D I G A R H
BJP workers protest against Satya Pal Jain
CHANDIGARH, Dec 24 — Simmering discontent in the BJP today spilled on to the streets of Chandigarh with a large group of party workers staging an angry demonstration against a section of party workers who they said were responsible for the defeat of the party nominees for the posts of Mayor and Senior Deputy Mayor.
'Spy' Roop Lal goes on fast
CHANDIGARH, Dec 24 — Mr Roop Lal, who spent 26 years in Pakistani jails, today sat on an indefinite fast, here at the Sector 17 Piazza. His demands include a residential flat and a plot to establish a detective agency in Punjab.
NRI offers to maintain piazza
chandigarh, Dec 24 — An NRI builder, who has made it good abroad in real estate development, has offered to undertake development and maintenance of the pride of the City Beautiful, piazza in the Sector 17 shopping centre.
Musical tribute to martyr Major Dhaliwal
SAS NAGAR, Dec 24 — The ninth Dr M.S. Randhawa Sabhyacharak Mela was organised by the Punjabi Cultural Society at Dasehra Ground, Phase VIII, here today.
Overwhelming response to coaching tests
Chandigarh, Dec 24 — Coaching tests for higher secondary classes, organised in government schools in the city on every Saturday, have got an overwhelming response from parents and students.
Top MC posts go to Congress
December 24, 2000
Admn, IT companies sign MoU
December 23, 2000
UT Admn seeks more powers from Centre
December 22, 2000
HUDA cashing in on public money
December 21, 2000
Illegal additions in govt houses
December 20, 2000
Land allotted to 36 housing societies
December 19, 2000
Admn to implement Punjab Apartment Act
December 18, 2000
500 families fear displacement
December 17, 2000
Fresh plans to tap tourism potential
December 16, 2000
Real estate business remains in doldrums
December 15, 2000
No court order needed for return of belongings
December 14, 2000