Wednesday, December 27, 2000,
Chandigarh, India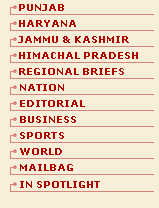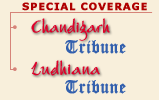 S P O T L I G H T
Fernandes unhurt in mishap
RATLAM (MP) Dec 26 (UNI) — Defence Minister George Fernandes escaped unhurt when his car collided with a tractor, 15 km from here, today. The police said the accident occurred when Mr Fernandes was on way to Bamania from Jhabua district to attend the death anniversary function of socialist thinker Mama Baleshwar Dayal. The police has arrested tractor driver Kaiju Badrinath.
Id-ul-Fitr tomorrow
NEW DELHI, Dec 26 (PTI) — Id-ul-Fitr would fall on December 28, the Shahi Imam of the Jama Masjid said today. The announcement was made by Shahi Imam Syed Ahmed Bukhari as the moon was not visible in Delhi and there was no evidence of its visibility from anywhere till late in the evening. A release issued by the Markazi Royat-e-Hilal Committee of the Jama Masjid said any change of the decision on the basis of some evidence of citing of the moon would be immediately announced.