Wednesday, December 27, 2000,
Chandigarh, India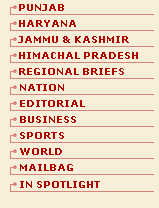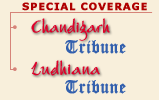 C H A N D I G A R H
Private luxury buses to Punjab may operate from ISBT
CHANDIGARH, Dec 26 — A scheme to allow private luxury buses to operate from the Inter-State Bus Stand to select destinations in Punjab is likely to be finalised by the Chandigarh Administration on a reciprocal basis.
Bureaucratic control, inquiry panels feature at PU Senate meeting
CHANDIGARH, Dec 26 — Bureaucratic control over Panjab University finances was decried by the Senate at a meeting of the newly-constituted House here today. Collapsing economy of the campus was also highlighted.
Cops to hold meeting with hoteliers
CHANDIGARH, Dec 26 — For preventing dancing revelers from stepping in the shoes of others after getting drunk during the New Year celebrations, the Chandigarh Police is issuing a list of "do's and don'ts" to the restaurant, club and hotel owners.
Police for supervised parking
PANCHKULA, Dec 26 — A theft of music systems from cars parked in front of hotels in Sector 5 where two marriages were in progress, was reported last week. While cases were registered by the police, it is learnt that no personnel were on duty there at that time.
Nominated councillors hold the key in MC
CHANDIGARH, Dec 27 — The nominated councillors are likely to play a key role in the functioning of the Municipal Corporation, Chandigarh, in the coming year, keeping in view the minority of the ruling Congress councillors.
Six resolutions passed at World Punjabi Conference
December 26, 2000
BJP workers protest against Satya Pal Jain
December 25, 2000
Top MC posts go to Congress
December 24, 2000
Admn, IT companies sign MoU
December 23, 2000
UT Admn seeks more powers from Centre
December 22, 2000
HUDA cashing in on public money
December 21, 2000
Illegal additions in govt houses
December 20, 2000
Land allotted to 36 housing societies
December 19, 2000
Admn to implement Punjab Apartment Act
December 18, 2000
500 families fear displacement
December 17, 2000
Fresh plans to tap tourism potential
December 16, 2000