Hurriyat team to get passports
NEW DELHI, Dec 28 — The government today gave clearance for issuing of passports to four Hurriyat leaders following a request made by the amalgam leadership to travel to Pakistan, informed sources said here.
Pak told to check foreign ultras
NEW DELHI, Dec 28 — India asked Islamabad today to restrain foreign militant groups like the Lashkar-e-Toiba from perpetrating violence, if Indo-Pak talks were to be resumed.

Lashkar man gives vital clues
NEW DELHI, Dec 28 — The Delhi police today claimed that the interrogation of the Lashkar-e-Toiba militant, Ashfaq Ahmed, had yielded vital information relating to alleged plans by the militant group to strike at different places, including important installations in the country.

THE TRIBUNE MAGAZINES
On Mondays


On Sundays

On Saturdays

GNDTP gets substandard coal
BATHINDA, Dec 28 — The management of the local Guru Nanak Dev Thermal Plant is finding it difficult to run the plant smoothly as it is not getting washed coal despite its entitlement.
Manipur Cong MLAs form front
IMPHAL, Dec 28 — In dramatic developments, the Congress Legislature Party in Manipur split with 10 of its 11 MLAs joining hands with the BJP in a new political alliance to topple the beleaguered Nipamacha Singh ministry.
Sikh sant's Id gift to Muslims
CHAHAR MAJRA (Mullanpur), Dec 28 — The mood was upbeat. The entire population of the village in general and Muslims in particular had every reason to feel overjoyed. Their enthusiasm was reflected not only in their colourful costumes and clothes but also in their fervour and warmth with which they greeted their guests on Id today.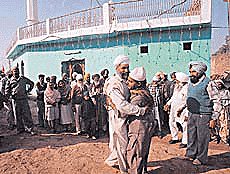 Muslims and Sikhs greet Id Mubarak at a newly constructed mosque given as an Id gift by Sant Waryam Singh at Chahar village near Ratwara Sahib in Ropar district on Thursday.
— Tribune photo by Pankaj Sharma
Red Fort attackers' accomplice shot
December 28, 2000
Ultra behind Red Fort attack shot
December 27, 2000
Major breakthrough in Red Fort shootout
December 26, 2000
No headway in Red Fort case
December 25, 2000
It was a five-minute work of 2 militants
December 24, 2000
Ultras storm Army camp in Red Fort
December 23, 2000
Hurriyat team leaves for Pak on Jan 15
December 22, 2000
Ceasefire in J&K extended
December 21, 2000
NDA suffers first defeat
December 20, 2000
TDP threatens to withdraw support
December 19, 2000
Involve Pak in talks: APHC
December 18, 2000