Saturday, December 30, 2000,
Chandigarh, India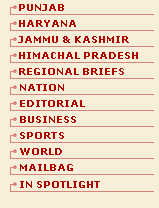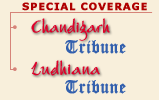 S P O T L I G H T

Masked men kill seven
PHILADELPHIA, Dec 29 — Seven persons were fatally shot after masked men broke into a run-down home in a locality known for heavy drug activity, the police said. Three were wounded. Four persons wearing masks shot the victims last night according to interviews with survivors, Capt James Brady said. No suspect had been arrested and no weapon recovered. Six persons were found dead at the home and another died in hospital.
Priests attacked
RAIGARH (MP), Dec 29 (PTI) — Armed miscreants beat up two priests in a church on the outskirts of Pachore, 50 km from here, looted Rs 18,000 in cash and took away other property, the police said today.