Sunday, December 31, 2000,
Chandigarh, India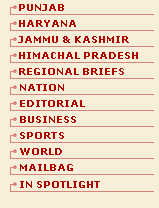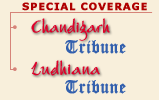 S P O T L I G H T
Uttaranchal BJP chief
DEHRA DUN, Dec 30 (PTI) — Senior BJP leader Puran Chand Sharma was today elected unopposed as the first president of the Uttaranchal unit of the party. Returning Officer O. P. Kohli said Mr Sharma alone had filed nominations. Hence, he was declared elected. Three sets of nominations were filed in favour of Mr Sharma. Chief Minister Nityanand Swami and Rajya Sabha member Manohar Kant Dhayani, who were expected to contest the election, and 28 other party leaders seconded Mr Sharma's name.
Charas seized
MADHUBANI (Bihar), Dec 30 (UNI) — Charas worth Rs 25 crore was seized near the local railway station roundabout and two persons were taken into custody. The charas was concealed in packets, the police said.