Sunday, December 31, 2000,
Chandigarh, India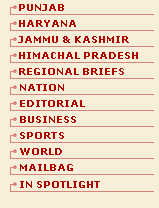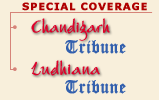 H I M A C H A L P R A D E S H
Civic poll: Cong cries foul
SOLAN, Dec 30 — Mr Sunjay Awasthi, newly elected Municipal Councillor and also General Secretary of the H.P. Youth Congress, and Mr Pankaj Sood, in-charge, election campaign of the same outfit, in a joint statement here yesterday criticised the state government for "causing undue delay in the oath-taking ceremony and commencement of the newly elected Municipal Council".
Sonia authorised to choose CWC members
SHIMLA, Dec 30 — Both factions of the Congress in Himachal Pradesh today authorised the party President, Mrs Sonia Gandhi, to choose 12 members of the Congress Working Committee from the state.
BJP factions move closer
SHIMLA, Dec 30 — Differences between dissidents and Dhumal supporters in the ruling BJP have started narrowing with the process of dialogue having been initiated among them.
Of overflowing sewers
PALAMPUR, Dec 30 — Resentment prevails among residents living near the new bus stand here over unhelpful attitude of the public health authorities towards the problems of overflowing of the sewers. The sewers have been overflowing on bypass of the town for the past many days.
Cell for environment clearance soon: CM
SHIMLA, Dec 30 — Chief Minister Prem Kumar Dhumal has said a special cell will be set up in the Public Works Department in collaboration with the Forest Department to expedite environment clearance for the construction of roads in the state.
HP Assembly passes two Bills
December 30, 2000
Discontent in HP Congress
December 29, 2000
Vigil along Chamba border stepped up
December 28, 2000
Construction poses traffic hazard
December 27, 2000
Setback to Cong as BJP wins panchayat polls
December 26, 2000
HVP for merger with HVC
December 25, 2000
A boon to animal owners
December 24, 2000
Rites surveying rail line
December 23, 2000
BJP achieves landslide victory
December 22, 2000
HP heritage advisory panel set up
December 21, 2000
Govt plans to raise Rs 500 cr as loans
December 20, 2000