Demolition a blunder: Shanta
Wants temple after dialogue
AMRITSAR, Jan 14 — Expressing concern over the demolition of Babri Masjid, Mr Shanta Kumar, Union Minister for Consumer Affairs and Public Distribution, said any attempt to construct Ram Temple on the disputed land would be yet another "historic blunder".
Pinki 'sending feelers to surrender'
LUDHIANA, Jan 14 — Gurmeet Singh, alias Pinki, the main accused in the Avtar Singh murder case, had tried to get admission in a private hospital in Delhi showing a back date in order to create an alibi for him to protect him from facing prosecution in the shootout incident that took place in Maya Nagar here last Sunday.
'Move' to destabilise WB Govt
Left Front to hold protest on Jan 24
NEW DELHI, Jan 14 — The Left parties today charged "Right wing" forces with carrying out "disruptive activities" to destabilise the Left Front government in West Bengal.
In Agriculture Tribune today
THE TRIBUNE MAGAZINES
On Mondays

On Sundays
On Saturdays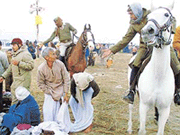 7 million take dip at Kumbh



Mounted police asks devotees to move on after taking a holy dip in the Ganga during the Mahakumbh Mela in Allahabad on Sunday.
— Reuters photo
Problems with China on LAC: Army Chief
NEW DELHI, Jan 14 — The chief of Army Staff, Gen S. Padmanabhan, today said China's building up infrastructure, including roads, near the Line of Actual Control was creating some problems between the two countries.
Edit: China's renewed interest in India



After Harike, Army takes on Kanjali Lake
KANJALI LAKE (Kapurthala), Jan 14 — Army jawans have taken upon themselves to clear Kanjali Lake of hyacinth. Several Army personnel, clad in orange life jackets, can be seen swarming the lake and removing the weed.
Maghi turns into election mela
January 14, 2001
Army Chief favours J&K truce extension
January 13, 2001
APHC selects 5-man team to Pak
January 12, 2001
CM dissolves SAD front bodies
January 11, 2001
50 hurt as blasts rock Kashmir
January 10, 2001
Fog hits air, rail traffic
January 9, 2001
Patch-up efforts by George fail
January 8, 2001
Centre gives in to APHC demand
January 7, 2001
18 massacred in Bengal
January 6, 2001
Nitish resigns
January 5, 2001
States overloading grid
January 4, 2001