THE TRIBUNE MAGAZINES
On Mondays

On Sundays
On Saturdays
Jitendra Prasada dead


NEW DELHI, Jan 16 — Senior Congress leader Jitendra Prasada, 62, who recently came into public gaze by becoming the first person to challenge a member of the Nehru-Gandhi family for the party's presidential race, died here today at Apollo Hospital following a cardiac arrest.
Nod to 60 cr for Ranjit Sagar dam
NEW DELHI, Jan 16 — The Centre today gave its approval for releasing Rs 60 crore during the current financial year in the irrigation component of Ranjit Sagar Dam during the current financial year, out of which the Punjab Government had already provided for its share of Rs 20 crore.
NDA team for Central rule in Bengal
NEW DELHI, Jan 16 — A delegation of the National Democratic Alliance today met Prime Minister Atal Behari Vajpayee and demanded immediate imposition of President's rule on West Bengal "to save the life and property of the people".
In Health Tribune today
SOCIETY
IN PASSING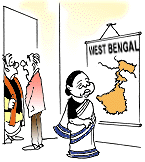 Mamata Di is trying to find New Delhi on the map of W. Bengal!

Potato flood on roads
Six growers booked
JALANDHAR, Jan 16 — Hundreds of potato growers of the Doaba region took to streets and dumped hundreds of truck-loads of potato on all main roads, making life nightmarish for residents and hundreds of road users here this afternoon.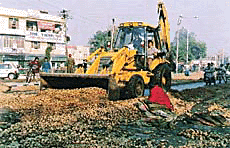 A Municipal Corporation tipper clears the road opposite Circuit House in Jalandhar of heaps of potatoes dumped by agitating potato growers on Tuesday. — Photo by Sanjiv
Mahant alleges police torture
Baseless story, says SSP
BATHINDA, Jan 16 — Karamjit Singh, a mahant working at Gurdwara Dhab Sar at Jadsipauwali village in the district was allegedly tortured by the Barnala police for performing the "anand karaj" of a Dalit boy with a girl belonging to a Jat Sikh family.
SGPC to meet PM over Pak jathas
January 16, 2001
Farooq escapes bid on life
January 15, 2001
Maghi turns into election mela
January 14, 2001
Army Chief favours J&K truce extension
January 13, 2001
APHC selects 5-man team to Pak
January 12, 2001
CM dissolves SAD front bodies
January 11, 2001
50 hurt as blasts rock Kashmir
January 10, 2001
Fog hits air, rail traffic
January 9, 2001
Patch-up efforts by George fail
January 8, 2001
Centre gives in to APHC demand
January 7, 2001