THE TRIBUNE MAGAZINES
On Mondays

On Sundays
On Saturdays
Talwandi to meet RSS chief
NEW DELHI, Jan 18 — SGPC chief, Mr Jagdev Singh Talwandi, is scheduled to meet RSS leaders here on February 7 under the aegis of the National Commission for Minorities (NCM), it is learnt.
Hindujas arrive to face trial
NEW DELHI, Jan 18 — The arclights would once again focus on the Bofors case tomorrow with the Hinduja brothers set to appear before the designated court, almost 16 years after the ink on the controversial gun deal with A.B. Bofors dried up.

Film financier and diamond merchant Bharat Shah (left) is accompanied by a policeman as he is brought to court in Mumbai on Thursday. — Reuters photo
Bharat Shah's bail plea rejected
MUMBAI, Jan 18 — In a dramatic development, film financier Bharat Shah, held on charge of alleged nexus with the underworld, today did not press for liberty following which the Mumbai High Court rejected his bail petition.
In Arts Tribune today
IN PASSING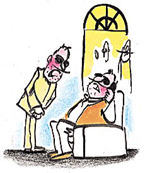 Ustadji, if we stop providing funds there would be no politics, no cricket, no films.

USA may lift sanctions against India
WASHINGTON, Jan 18 — The incoming Bush administration has given enough indications that it might review and lift the post-Pokhran sanctions imposed against India.
Notice to Centre on '84 riots
NEW DELHI, Jan 18 —The Nanavati Commission of inquiry probing the 1984 anti-Sikh riots today issued notices to the Union Government, the Delhi Government and the Delhi police asking them to place before it within two weeks the complete records pertaining to the riots available with them.
Move on octroi faces rough weather
CHANDIGARH, Jan 18 — A move by the Punjab Government to scrap the privatisation of octroi collection in the state in a bid to satisfy certain votebanks in view of the approaching state assembly elections has run into rough weather.
Rival claims over mosque site
LUDHIANA, Jan 18 — Divergent claims are being made over the demolished structure at Dhaliwal allegedly by activists of the Shiv Sena. While Sena activists claim that a cowshed existed there and no prayers had been offered for a long period, the Muslims maintain that there was an old mosque in a dilapidated condition.
PM for fixed tenure of Parliament
January 18, 2001

Bid to storm Srinagar airport
January 17, 2001
SGPC to meet PM over Pak jathas
January 16, 2001
Farooq escapes bid on life
January 15, 2001
Maghi turns into election mela
January 14, 2001
Army Chief favours J&K truce extension
January 13, 2001
APHC selects 5-man team to Pak
January 12, 2001
CM dissolves SAD front bodies
January 11, 2001
50 hurt as blasts rock Kashmir
January 10, 2001
Fog hits air, rail traffic
January 9, 2001
Patch-up efforts by George fail
January 8, 2001
Centre gives in to APHC demand
January 7, 2001