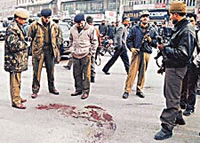 Senior police officials examine the blast site at Lal Chowk in Srinagar where one police man was injured and one civilian killed on the spot when militants hurled a grenade at security forces on Friday.
— Photo by Amin War
Byelections to 11 Assembly seats on Feb 19
NEW DELHI, Jan 19 — The Election Commission today announced holding of byelections to fill 11 vacant seats in eight state Assemblies, including three in Uttar Pradesh and two in Andhra Pradesh, on February 19.
Majitha dead
CHANDIGARH, Jan 19 — Mr Parkash Singh Majitha, a member of the Punjab Council of Ministers, died at the PGI this evening.
In Sports Tribune today
THE TRIBUNE MAGAZINES
On Mondays

On Sundays
On Saturdays
Pinki surrenders to police
LUDHIANA, Jan 19 — After a drama full of suspense and uncertainty lasting more than 10 days, Gurmeet Singh, alias Pinki, the main accused in the Avtar Singh murder case surrendered to the police here today.
Probe held on Maneka's orders
Demolition of 'mosque'
DHARIWAL (Gurdaspur), Jan 19 — On the directions of Ms Maneka Gandhi, Union Minister of State for Social Justice and Empowerment, a high-level team today conducted an on-the-spot inquiry into the demolition of an 'ancient mosque' allegedly by activists of the Shiv Sena on January 14 in this border town.
HP to curb drug menace among kids
SHIMLA, Jan 19 — Expressing concern over the rise in consumption of drugs by school and college students and a spurt in the smuggling of contraband goods in Himachal Pradesh, the Director-General of Police, Mr A.K. Puri, today said that narcotic cells would be opened in all districts to curb the menace and a special campaign launched to destroy the cannabis plants.
Two blasts rock Pulwama
January 19, 2001
PM for fixed tenure of Parliament
January 18, 2001

Bid to storm Srinagar airport
January 17, 2001
SGPC to meet PM over Pak jathas
January 16, 2001
Farooq escapes bid on life
January 15, 2001
Maghi turns into election mela
January 14, 2001
Army Chief favours J&K truce extension
January 13, 2001
APHC selects 5-man team to Pak
January 12, 2001
CM dissolves SAD front bodies
January 11, 2001
50 hurt as blasts rock Kashmir
January 10, 2001
Fog hits air, rail traffic
January 9, 2001