THE TRIBUNE MAGAZINES
On Mondays

On Sundays
On Saturdays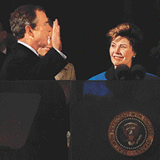 Bush sworn in President
WASHINGTON, Jan 20 — George Walker Bush strode up the imposing Capitol Hill this afternoon to become the 43rd President of the USA.

Mr George W. Bush (left) is sworn in as the 43rd President of the USA in Washington on Saturday.
— Reuters photo
Rumour leads to tension in Ludhiana
LUDHIANA, Jan 20 — A curfew-like situation prevailed in the city, particularly in the old interior areas, following a rumour that another shootout had taken place near CMC hospital causing the death of a man late in the evening.
IN PASSING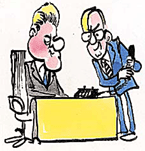 Sir, Indian politicians want to know the secret of your completing eight years in office.

Dhanaula joins SHSAD
THIKRIWALA (Barnala), Jan 20 — Mr Gurinder Pal Singh Dhanaula, a loyalist of Mr Surjit Singh Barnala, Governor of Uttaranchal, and senior vice-president of the dissolved youth wing of the Shiromani Akali Dal, along with his supporters, today left SAD for the Sarb Hind Shiromani Akali Dal.
10 killed in road accidents
HISAR, Jan, 20 — Four school students were killed and nine injured when a Matador carrying them collided with a truck on the Tohana road at Barwala, about 30 km from here, today.
Cyber law needed to meet IT challenge
CHANDIGARH, Jan 20 — The Chief Justice of India, Dr A.S. Anand, said here today that activities in cyberspace had influenced almost all branches of laws, like commercial law, banking law, intellectual property law and law of evidence.
HUDA officers to be just a call away soon
Department to go hi-tech
GURGAON, Jan 20 — Following the virtual globalisation of Gurgaon, the local office of the Haryana Urban Development Authority is contemplating to go high-tech. This should come as a happy tiding for the HUDA plot holders staying across the world.

Sansad slams 'Islamic terrorism'
January 20, 2001
Two blasts rock Pulwama
January 19, 2001
PM for fixed tenure of Parliament
January 18, 2001

Bid to storm Srinagar airport
January 17, 2001
SGPC to meet PM over Pak jathas
January 16, 2001
Farooq escapes bid on life
January 15, 2001
Maghi turns into election mela
January 14, 2001
Army Chief favours J&K truce extension
January 13, 2001
APHC selects 5-man team to Pak
January 12, 2001
CM dissolves SAD front bodies
January 11, 2001
50 hurt as blasts rock Kashmir
January 10, 2001
Fog hits air, rail traffic
January 9, 2001