Two blasts in valley kill 9
Bid to blow up NC headquarters
JAMMU, Jan 21 — In escalated violence unleashed by militants in the valley, nine persons, including three security personnel and a woman, were killed in two blasts, while ultras made an abortive bid to blast the headquarters of the ruling National Conference in Jammu this morning.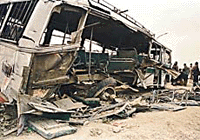 J&K page: Ultras not in Musharraf's control

This is what remains of a bus after it ran over a landmine at the village of Tapper in Pattan, 27 km north of Srinagar, on Sunday. — Reuters photo

Sonia to take holy dip today
Authorities say can't ensure security
LUCKNOW, Jan 21 — Congress President Sonia Gandhi will pay a daylong visit to Maha-kumbh mela in Allahabad tomorrow, even as the mela authorities today expressed their inability to provide adequate security to her.