THE TRIBUNE MAGAZINES
On Mondays

On Sundays
On Saturdays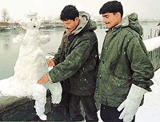 Indian para-military soldiers make a snowman near the Dal Lake in the heart of Srinagar on Monday.
— Reuters photo

Indigenous warships join fleet
MUMBAI, Jan 22 — The indigenously designed guided missile destroyer "INS Mumbai'' and missile corvette "INS Kirch'' today joined the Indian naval fleet. The warships were concurrently commissioned by Maharashtra Governor Dr P.C. Alexander. INS Mumbai is the third of the "Delhi class'' of guided missile destroyers built by Mazgaon docks and represents the cutting edge of combatant technology.
In Education Tribune today
IN PASSING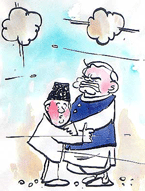 I hope you won't extend ceasefire!

Move to release Sikh youths
CHANDIGARH, Jan 22 — The Union Home Ministry in consultation with the Punjab Government is contemplating releasing Sikh youths, including militants, languishing in various jails in the country.
Centre grants 9.7 crore to Punjab
NEW DELHI, Jan 22 — In a bid to fill the critical gaps in physical and social infrastructure in border areas of Punjab, the Centre has allocated Rs 9.70 crore to the state government for the financial year 2000-2001.
Valley cut off, flights cancelled
Snow in Shimla, Chamba, Manali
SRINAGAR, Jan 22 — Breaking a long dry spell, Kashmir and its upper reaches witnessed heavy snow since yesterday. While heavy snow was reported from the upper reaches like Sonmarg, Gulmarg and Pahalgam, a thick blanket of snow covered most parts of the valley today.
Pandemonium at CM's function
Kisan sabha leaders detained, let off
NAUSHEHRA PANNUAN (Amritsar), Jan 22 — The police had a tough time when activists of the 'Punjab Kisan Sabha' started raising slogans against the state government during the speech of Mr Parkash Singh Badal, Chief Minister, here today.
VHP unveils action plan
January 22, 2001
VHP deadline on Ram Temple
January 21, 2001
Sansad slams 'Islamic terrorism'
January 20, 2001
Two blasts rock Pulwama
January 19, 2001
PM for fixed tenure of Parliament
January 18, 2001

Bid to storm Srinagar airport
January 17, 2001
SGPC to meet PM over Pak jathas
January 16, 2001
Farooq escapes bid on life
January 15, 2001
Maghi turns into election mela
January 14, 2001
Army Chief favours J&K truce extension
January 13, 2001
APHC selects 5-man team to Pak
January 12, 2001
CM dissolves SAD front bodies
January 11, 2001