THE TRIBUNE MAGAZINES
On Mondays

On Sundays
On Saturdays
Over 2 cr pilgrims reach Prayag
KUMBHNAGAR, (Allahabad), Jan 23 — Over two crore pilgrims have already reached Prayag Raj till today evening to take a holy dip at Sangam tomorrow on "Mauni Amavasya" at the Mahakumbh mela. Of these about 75 lakh pilgrims took a holy dip at Sangam to mark "Shiv Chauterdashi" today.
Alarmed CMs to approach Delhi on wheat MSP
NEW DELHI, Jan 23 — Alarmed over reports that the government may not hike the minimum support price for wheat in the rabi season, the Chief Ministers of Punjab and Haryana are rushing to the Capital to impress upon the Centre to reconsider the proposed decision.
In Health Tribune today
IN PASSING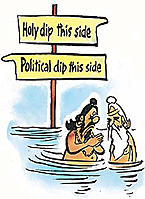 Revoke officer's suspension, Haryana told
CHANDIGARH, Jan 23—In a setback to the Haryana Government, the National Commission for Scheduled Castes and Scheduled Tribes has asked the state to revoke the suspension of a former Deputy Commissioner of Rohtak, Mr Anil Kumar, IAS, and to give him a suitable posting, keeping in view his seniority and experience.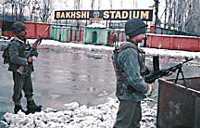 3-tier security ring at stadium
Search operations launched in Srinagar

Security forces keep a vigil around Bakhshi Stadium, the venue of the main R-Day function in Srinagar, on Tuesday. — Photo by Amin War

Awami League leader attacked
SRINAGAR, Jan 23 — Two persons, including a former Hizbul Mujahideen militant, were killed while militants shot at and injured a leader of the Awami League at Rafiabad in North Kashmir during the past 24 hours.



Missing file: MC told to lodge FIR
Principal Secretary writes to EO
KAPURTHALA, Jan 23 — The Principal Secretary Local Self-Government has ordered the registration of a criminal case in connection with a missing file pertaining to a site plan of the house of Mr Ashok Kumar Aggarwal, President of the municipal council.

Sonia bathes in Sangam
January 23, 2001
VHP unveils action plan
January 22, 2001
VHP deadline on Ram Temple
January 21, 2001
Sansad slams 'Islamic terrorism'
January 20, 2001
Two blasts rock Pulwama
January 19, 2001
PM for fixed tenure of Parliament
January 18, 2001

Bid to storm Srinagar airport
January 17, 2001
SGPC to meet PM over Pak jathas
January 16, 2001
Farooq escapes bid on life
January 15, 2001
Maghi turns into election mela
January 14, 2001
Army Chief favours J&K truce extension
January 13, 2001
APHC selects 5-man team to Pak
January 12, 2001
CM dissolves SAD front bodies
January 11, 2001