| | |
| --- | --- |
| | A Naga sadhu rides a horse as he proceeds for a 'shahi snan' on the occasion of Mauni Amavasya during the Mahakumbh Mela in Allahabad on Wednesday. — Reuters photo |
Budget on Feb 28 likely
NEW DELHI, Jan 24 — The Budget session of Parliament would begin from February 19 and end on May 11, the Union Cabinet decided today. The session would start with the customary joint address to both Houses by the President.
In Science Tribune today
THE TRIBUNE MAGAZINES
On Mondays

On Sundays
On Saturdays
IN PASSING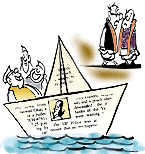 Sonia loyalists seem to be in the midst of "Sangam euphoria".

Game of names begins in Majitha
Amarinder Singh wary of EVMs
MAJITHA, Jan 24 — The sudden announcement of byelection to the Majitha Assembly seat has come as a rude shock to the Majitha family.
Day 1 of truce extension: blast claims SHO's life
SRINAGAR, Jan 24 — A day after the extension of the ceasefire by another month in Jammu and Kashmir, a police officer was killed today in a powerful bomb blast set off by militants in the state where six more persons were killed and one person was abducted in separate incidents.
Edit: Pressing on with peace
P P Hinduja quizzed
NEW DELHI, Jan 24 — The CBI today questioned Switzerland-based P P Hinduja in connection with his alleged role in the Rs 64-crore Bofors pay-off case. "He was interrogated in two session for over three hours today by the Special Investigation Group of the agency," the CBI spokesperson told reporters here today.
Axe to fall on 95 pc primary schools
HP proposal may hit tribal areas
MANDI, Jan 24 — More than 95 per cent schools in the tribal areas of Himachal Pradesh will be closed if the government implemented its proposal to close down all primary schools where the number of pupils was 20 or less.
Centre extends J&K ceasefire
January 24, 2001
Sonia bathes in Sangam
January 23, 2001
VHP unveils action plan
January 22, 2001
VHP deadline on Ram Temple
January 21, 2001
Sansad slams 'Islamic terrorism'
January 20, 2001
Two blasts rock Pulwama
January 19, 2001
PM for fixed tenure of Parliament
January 18, 2001

Bid to storm Srinagar airport
January 17, 2001
SGPC to meet PM over Pak jathas
January 16, 2001
Farooq escapes bid on life
January 15, 2001