THE TRIBUNE MAGAZINES
On Mondays

On Sundays
On Saturdays
30 teams formed to give relief
NEW DELHI, Jan 31 — The Gujarat Government has formed 30 self-contained teams headed by civil services officers to extend adequate rescue and relief operations in far-flung areas of the quake-affected Gujarat, even as it has begun a door-to-door survey to assess the exact damage to property and lives.
Relief operations continue
NEW DELHI, Jan 31 — Five days after the killer earthquake ravaged Gujarat, the herculean rescue and relief operations continued involving 22,000 defence personnel and 5,000 paramilitary troops, even as hope of retrieving people who are trapped under the debris was fading fast.
Minister quits over views on quake
BANGALORE, Jan 31 — Karnataka Minister T John resigned today in the wake of a controversy over his remarks linking the Gujarat earthquake to attacks on Christians in that state, embarrassing the S M Krishna-led congress government.
In Science Tribune today
To our readers
IN PASSING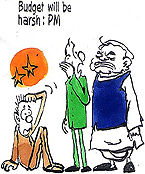 Sir, it seems that after your statement we will have to start relief operations in the rest of India!

Plenty of aid here, none there
BHUJ, Jan 31 — Sitting amidst the ruins, residents of this town are yet to come to grips with the tragedy. They know and, in some cases, can see their near and dear ones still lying buried beneath the debris, but are unable to extricate them, for there is no way they can do so with bare hands.
Sharks stalk sea of relief
HISAR, Jan 31 — With sharks stalking the high seas of relief mobilisation for quake victims, the task of the genuine fund-raisers has suffered a severe setback in Haryana.
Tribune Founder's Day celebrations cancelled
CHANDIGARH, Jan 31—The Tribune Trust has decided to cancel its annual Founder's Day celebrations slated for February 2. This was announced here today by Mrs Serla Garewal, President of The Tribune Trust.

Girls defy tradition, donate blood
SRIGANGANAGAR, Jan 31 — Even as various voluntary organisations and philanthropists publicise their act of generosity towards the sufferers of quake-hit Gujarat by having their pictures splashed on the front pages of newspapers, a group of girls from a neighbouring village have set an example for others to emulate.
Fernandes puts quake toll at 1 lakh
January 31, 2001
PM announces Rs 500-cr relief
January 30, 2001
Fresh tremors as toll crosses 20,000
January 29, 2001
16,000 feared dead in Gujarat quake
January 28, 2001
Capital turned into fortress
January 26, 2001
Centre clears four-lane highway up to Sirhind
January 25, 2001
Centre extends J&K ceasefire
January 24, 2001
Sonia bathes in Sangam
January 23, 2001
VHP unveils action plan
January 22, 2001
VHP deadline on Ram Temple
January 21, 2001
Sansad slams 'Islamic terrorism'
January 20, 2001
Two blasts rock Pulwama
January 19, 2001