THE TRIBUNE MAGAZINES
On Mondays

On Sundays
On Saturdays
IMA appeal for medical items
CHANDIGARH, Feb 1 — The local branch of the Indian Medical Association has appealed to the chemists, surgical suppliers and doctors of Punjab, Haryana and Himachal to get the urgently required medical items airlifted to Ahmedabad for the post-earthquake victims.
$ 9.42 m aid for quake victims: EU
BRUSSELS, Feb 1 — The European Commission, the executive arm of the European Union (EU), today announced a second tranche of $ 9.42 million in aid for the victims of India's earthquake.
In Arts Tribune today
To our readers
IN PASSING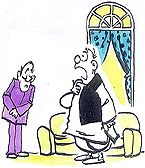 Where is the press photographer? I want to give donation for the Gujarat relief fund!

HP extends tax concessions
Ministers to donate one-month salary
SHIMLA, Feb 1 — Alarmed at the unprecedented destruction caused by the recent earthquake in Gujarat, the Himachal Pradesh Government has decided to take all necessary safeguards for buildings in the eventuality of tremors in the state, which falls in Zone 5 of the active seismic belt.
2 pc more IT surcharge levied
NEW DELHI, Feb 1 — In a bid to raise Rs 1,300 crore for relief and rehabilitation work in earthquake-devastated Gujarat, the government today promulgated an ordinance to levy a 2 per cent additional income tax surcharge.
Hindujas told not to leave India
NEW DELHI, Feb 1 — A designated CBI court today turned down a request by the three Hinduja brothers to allow them to leave India.
PSEB pays workers for no work
PATIALA, Feb 1 — A cash-starved Punjab State Electricity Board continues to pay wages to as many as 14,000 workers rendered idle after the construction of the Ranjit Sagar Dam, even though there is no hope that their services will be utilised for the construction of the barrage at Shahpur Kandi downstream as envisaged earlier.
Relief distribution main problem
February 1, 2001

Fernandes puts quake toll at 1 lakh
January 31, 2001

PM announces Rs 500-cr relief
January 30, 2001

Fresh tremors as toll crosses 20,000
January 29, 2001
16,000 feared dead in Gujarat quake
January 28, 2001
Capital turned into fortress
January 26, 2001
Centre clears four-lane highway up to Sirhind
January 25, 2001
Centre extends J&K ceasefire
January 24, 2001
Sonia bathes in Sangam
January 23, 2001
VHP unveils action plan
January 22, 2001
VHP deadline on Ram Temple
January 21, 2001
Sansad slams 'Islamic terrorism'
January 20, 2001