THE TRIBUNE MAGAZINES
On Mondays

On Sundays
On Saturdays
MSCP to pull out of NDA
IMPHAL, Feb 10 — The Manipur State Congress Party, a key constituent of the ruling United Legislature Front in Manipur, has decided to pull out of the National Democratic Alliance at the Centre, a senior MSCP leader said.
Narrow escape for 113 coalminers
PATNA, Feb 10 — Close on the heels of the Bagdigi mine tragedy, 114 miners in the Chitudih coalmines of Bharat Coking Coal Limited in Katras were trapped inside a mine yesterday when a blast breached the wall of the nearby dam and water rushed in.
Hike in college fee on cards
AMRITSAR, Feb 10 — The sub-committee constituted by the state Council for Higher Education has recommended a five-fold hike in admission fee and doubling of tuition fee in all colleges of the state. The recommendations, if implemented, will help the colleges overcame their financial crunch.
To our readers
IN PASSING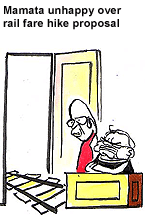 When even atheists turn to God
AHMEDABAD, FEB 10 — Faith. You can do very little with it but you can do nothing without it. So the Gujaratis strongly believe and continue to live life on the razor's edge despite all odds weighing heavily against them and those they hold dear.

Sukhbir files papers for RS seat
CHANDIGARH, FEB 10 — Former Union Minister, Mr Sukhbir Singh Badal, today filed his nomination papers for the Rajya Sabha seat from Punjab as a nominee of the Shiromani Akali Dal headed by his father, Mr Parkash Singh Badal.



No medicine for 'Mother Safety' month
PATIALA, Feb 10 — Despite the "National Mother Safety month" being observed to take care of pregnant women, mothers in the state are not getting a major material benefit due to them under the scheme, provision of iron folic acid tablets. Punjab has not been supplied the tablets since December, 1999. Hence, these are not available at most primary health centers, civil dispensaries and civil hospitals.
Farooq to induct Sikh in Cabinet
February 10, 2001
India conveys its concern to China
February 9, 2001
Curfew relaxed in Jammu
February 8, 2001
Cremation of youth passes off peacefully
February 7, 2001
1 killed in police firing
February 6, 2001
Rescue missions called off
February 5, 2001
Consensus on disaster management panel
February 4, 2001
Quake after-effects jolt Gujarat Govt
February 3, 2001
Operation clean-up begins
February 2, 2001
Relief distribution main problem
February 1, 2001
Fernandes puts quake toll at 1 lakh
January 31, 2001