THE TRIBUNE MAGAZINES
On Mondays

On Sundays
On Saturdays
Satwant's unseating stayed
Chandigarh, February 19
A Division Bench of the Supreme Court comprising Mr Justice S. P. Baroocha and Mr Justice Y. K. Sabharwal today stayed the operation of the order of the Punjab and Haryana High Court setting aside the membership of Mrs Satwant Kaur Sandhu of the Punjab Vidhan Sabha.
Stipends doubled
Chandigarh, February 19
The Haryana Government today said it doubled the stipends paid to students belonging to the Scheduled Castes and the backward classes.
In Education Tribune today
IN PASSING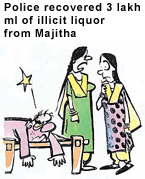 He was so drunk that he could not cast his vote

CBI probe into charges against ADGP
Chandigarh, February 19
Allowing a writ petition filed by 19-year-old Mamta Sharma alleging that her modesty was outraged by Punjab's Additional Director-General of Police B.P. Tiwari, Mr Justice V.M. Jain of the Punjab and Haryana High Court today directed the CBI to nominate an officer not below the DIG's rank to inquire into the allegations and register a first information report only if "circumstances so warranted".
Court stays CAT order on CBI chief
Bangalore, February 19
The Karnataka High Court today stayed the Central Administrative Tribunal (CAT) order quashing the appointment of Mr R .K. Raghavan as Director of the CBI.



Land acquisition notice struck down
Chandigarh, February 19
The Punjab and Haryana High Court has struck down the notifications acquiring land for establishing an industrial area near Sector 37 of the Rohtak Urban Estate. The acquisition of land had become controversial in view of the allegations that the industrial area was proposed to be established on the acquired land to enhance the value of the land owned by a former Haryana Town and Country Planning Minister, Seth Sri Krishan Dass.
GOC regrets firing, orders probe
February 19, 2001
Ceasefire likely to be extended
February 18, 2001
Fresh protests rock valley
February 17, 2001
4 killed in firing
February 16, 2001
Punjab draws up VRS
February 15, 2001
Harbans Singh joins Farooq Cabinet
February 14, 2001
Order on Ayodhya case quashed
February 13, 2001
Negotiations only solution: George
February 12, 2001
Ultras massacre 15 in Rajouri
February 11, 2001
Farooq to induct Sikh in Cabinet
February 10, 2001
India conveys its concern to China
February 9, 2001