IN PASSING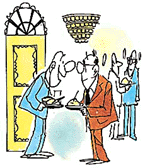 Sir, this is a "donation dinner" in aid of the Gujarat earthquake victims!
RSS leader Vijender Jain shot
Commercial establishments closed in protest
Sonepat, February 21
Dr Vijender Jain, a veteran leader of the RSS, was reportedly shot dead by three persons in the Model Town area here today.
Punjab to transfer prime land
Amritsar, February 21
The Punjab Government has decided to transfer 1250 acres of prime land belonging to the Punjab Land Development and Reclamation Corporation Limited (PLDRCL) to Punjab Agricultural University (PAU) free of cost. Earlier, the state was to transfer only 1000 acres out of a total of 2800 acres to PAU.
Karmapa in Delhi
New Delhi, February 21
Ecstatic Buddhist devotees played traditional music, burnt incense sticks and waved Dharma flags to welcome the controversial 17th Gyalwa Karmapa as he arrived in the Capital from Dharamsala today amidst tight security.


First amenities, then penalties: HC
Chandigarh, February 21
A Punjab and Haryana High Court judgement of far-reaching consequences, on the vexed issue of the powers of the administration to impose penalties like interest on delayed payment for a site allotted by it or to resume the site, will bring cheers to thousands of harassed allottees not only in the Union Territory of Chandigarh but in Haryana and Punjab also where HUDA and PUDA are as arbitrary in their actions as the UT administration has been found to be by the judiciary.
India lodges protest
February 21, 2001
Pak stalling peace process: President
February 20, 2001
GOC regrets firing, orders probe
February 19, 2001
Ceasefire likely to be extended
February 18, 2001
Fresh protests rock valley
February 17, 2001
4 killed in firing
February 16, 2001
Punjab draws up VRS
February 15, 2001
Harbans Singh joins Farooq Cabinet
February 14, 2001
Order on Ayodhya case quashed
February 13, 2001
Negotiations only solution: George
February 12, 2001