IN PASSING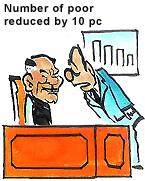 We should start more programmes like KBC and Chappar Phar Ke!

Water dearer, liquor cheaper
Shimla, February 24
Drinking water tariff was increased steeply and liquor prices slashed in the finance-starved Himachal Pradesh by the Cabinet which met here today under the chairmanship of Chief Minister P.K. Dhumal.
Excise on country liquor cut
Shimla, February 24
The excise on country liquor, regular and cheap brands of Indian made foreign liquor has been cut in the new excise policy for Himachal Pradesh which was approved by the state Cabinet today. Departmental stores will be free to obtain a beer licence at a nominal fee of Rs 15,000 per annum besides an assessed fee of Rs 8 per bottle.




Deadlock on maryada issue
No communication between High Priests
Amritsar, February 24
Even as Giani Puran Singh, Head Granthi, Golden Temple, and the rest of the Sikh High Priests, including Jathedar of Akal Takht, have refused to budge on their respective stands on "maryada", the long-pending meeting at Akal Takht is unlikely to be held in the near future to resolve the current Panthic matters.
Economic outlook gloomy
February 24, 2001
PM warns Lashkar
February 23, 2001
J&K truce extended
February 22, 2001
India lodges protest
February 21, 2001
Pak stalling peace process: President
February 20, 2001
GOC regrets firing, orders probe
February 19, 2001
Ceasefire likely to be extended
February 18, 2001
Fresh protests rock valley
February 17, 2001
4 killed in firing
February 16, 2001
Punjab draws up VRS
February 15, 2001
Harbans Singh joins Farooq Cabinet
February 14, 2001