IN PASSING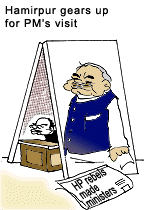 Now there is no threat to my government!

by Sandeep Joshi
CM: no one has approached me on Zaffarwal
Chandigarh, April 4
As the Zaffarwal issue started snowballing into a political controversy Punjab Chief Minister, Parkash Singh Badal today broke his silence to make his position clear in this connection.
'Siropa' presented to Baba Santa Singh
Amritsar, April 4
With the presentation of a 'siropa' to Baba Santa Singh, who recently rejoined the Sikh Panth after 17 years of excommunication, at Akal Takht here today, Baba Balbir Singh has virtually forfeited his claim to be Jathedar of the Budha Dal.



Guilty Sub Judge dismissed
Suicide by steno in courtroom
Amritsar, April 4
The ordeal of Mr Ram Krishan, brother of Meera (21), who committed suicide in the court of Sub Judge Maninder Singh in 1995, is over. Sub Judge Maninder Singh has been dismissed from service on the recommendations of the Punjab and Haryana High Court and orders of the Punjab Governor. Mr Bikramjit Singh, Secretary, Home has informed about his dismissal in a written circular.
Commuters torch 6 buses
April 4, 2001
Ousted CBEC head, son held, remanded
April 3, 2001
CBI begins scrutiny of scam papers
April 2, 2001
India at last lays quota regime to rest
April 1, 2001
SGPC for Pak corridor to Sikh shrine
March 31, 2001
BJP to evolve code of ethics
March 30, 2001
Anandgarh project notification quashed
March 29, 2001
Chief of Defence Staff on cards
March 28, 2001
Lashkar men storm CRPF camp, kill 4
March 27, 2001
Make party funding transparent: PM
March 26, 2001
BJP President calls Cong fascist
March 25, 2001