IN PASSING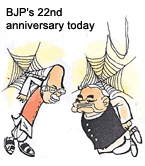 How pleasant! Information technology, web and our party are growing together!!

by Sandeep Joshi
Clinton to visit Jaipur
Jaipur, April 5
Former US President Bill Clinton will visit Jaipur for two days from April 8. Mr Clinton, who is arriving here on a private visit, would stay at Hotel Raj Vilas, where he was put up during his last visit to the state, an official press note said here today.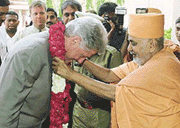 A priest garlands former U.S. President Bill Clinton during his visit to the Akshardham temple in Ahmedabad on Friday.
— Reuters photo

Sikh relics lying in state of neglect
Amritsar, April 5
The 172-year-old gold plates, domes and embossed pictures of the legendary Maharaja Ranjit Singh period, which were removed during the "restoration of the Golden Temple", have been lying in a state of 'neglect' in the Darbar Sahib complex as the SGPC has not come forward to take possession of the invaluable relics from the UK-based Guru Nanak Nishkam Sevak Jatha which completed the "gold plating sewa" two years ago.
CVC report on defence deals under study: MoD
April 5, 2001
Commuters torch 6 buses
April 4, 2001
Ousted CBEC head, son held, remanded
April 3, 2001
CBI begins scrutiny of scam papers
April 2, 2001
India at last lays quota regime to rest
April 1, 2001
SGPC for Pak corridor to Sikh shrine
March 31, 2001
BJP to evolve code of ethics
March 30, 2001
Anandgarh project notification quashed
March 29, 2001
Chief of Defence Staff on cards
March 28, 2001
Lashkar men storm CRPF camp, kill 4
March 27, 2001