IN PASSING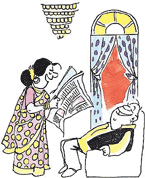 Good news. The officer incharge investigating your corruption case is himself caught in a scam.

by Sandeep Joshi
CMO, others down with jaundice
Malout, April 6
The Chief Medical Officer, local Civil Hospital, Dr Balkar Singh, has been lying in bed suffering from jaundice and liquid glucose is being injected into his veins at his house here.
Meham case goes to CBI
Haryana lax in action on Saikia report: HC
Chandigarh, April 6
Coming down heavily on Haryana Government functionaries for their laxity to take action on the report submitted by Saikia Commission of Inquiry which probed the circumstances leading to the death of Amir Singh, an Independent candidate for the Meham Assembly byelections in 1990, the Punjab and Haryana High Court, in a significant judgement, has entrusted the entire case to the Central Bureau of Investigation.



SOG team questions ultras
Srihargobindpur, April 6
A team of the special operations group (SOG) and the joint interrogation centre (JIC), Jammu and Kashmir, today visited Batala and Srihargobindpur to interrogate four arrested ISI-trained Kashmiri terrorists. The team was led by Inspector Shahin Parveen, the only woman officer of the elite SOG fighting against terrorists in trouble-torn Rajouri.
Govt invites Kashmiri militants for talks
April 6, 2001
CVC report on defence deals under study: MoD
April 5, 2001
Commuters torch 6 buses
April 4, 2001
Ousted CBEC head, son held, remanded
April 3, 2001
CBI begins scrutiny of scam papers
April 2, 2001
India at last lays quota regime to rest
April 1, 2001
SGPC for Pak corridor to Sikh shrine
March 31, 2001
BJP to evolve code of ethics
March 30, 2001
Anandgarh project notification quashed
March 29, 2001
Chief of Defence Staff on cards
March 28, 2001
Lashkar men storm CRPF camp, kill 4
March 27, 2001