IN PASSING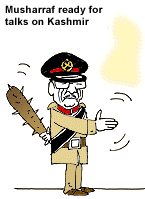 Have faith in me, trust me... I'll not betray...
Mr Vajpayee!

by Sandeep Joshi
Karnataka PCC chief quits
New Delhi, April 7
In a virtual repeat of the Tehelka episode, Karnataka PCC President V.S. Koujalagi, accused of accepting bribe from a youth to show him a favour and allegedly caught on video tapes during the act, resigned from his post today.
Charges against VC to be probed
Patiala, April 7
Punjab Higher Education Minister Master Mohan Lal today said he had directed the Secretary, Higher Education, to hold an inquiry into the allegations of violation of university rules and other irregularities levelled by the Punjabi University Teachers Association against the University Vice-Chancellor, Dr Jasbir Singh Ahluwalia.



Himachal BJP rally a low-key affair
Party to emerge stronger: Shanta
Hamirpur, April 7
Despite a large turnout, the rally organised to mark the three years of the Dhumal government, here today turned out to be a low-key affair due to the cancellation of Prime Minister Atal Behari Vajpayee's programme at the last minute. Mr Vajpayee, who was scheduled to address the rally, could not make it to Hamirpur due to the demise of Mr Devi Lal.
Solan rally show of strength
(Himachal page)
Conviction of Benazir, Zardari set aside
April 7, 2001
Govt invites Kashmiri militants for talks
April 6, 2001
CVC report on defence deals under study: MoD
April 5, 2001
Commuters torch 6 buses
April 4, 2001
Ousted CBEC head, son held, remanded
April 3, 2001
CBI begins scrutiny of scam papers
April 2, 2001
India at last lays quota regime to rest
April 1, 2001
SGPC for Pak corridor to Sikh shrine
March 31, 2001
BJP to evolve code of ethics
March 30, 2001
Anandgarh project notification quashed
March 29, 2001