IN PASSING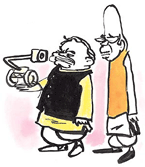 When I talk about Bofors it misfires and creates Tehelka!
by Sandeep Joshi
Colleges to be reallocated
Hike in charges postponed
Chandigarh, April 18
While the issue of enhancing various charges, including the tuition fee, in government colleges in Punjab has been deferred indefinitely, the State Council of Higher Education has, in principle, accepted the recommendations of the committee on the redemarcation of the jurisdiction of the universities.
Ex-MLA held for default in loan payment
Malout, April 18
The local revenue authorities have arrested former MLA, Mr Baldev Singh Ballamgarh, allegedly for default in the payment of instalments of loan taken by him.



Takht bans female foeticide
Offenders to be excommunicated
Amritisar, April 18
Akal Takht Jathedar Joginder Singh Vedanti today notified the Sikh community that acts of female foeticide were violative of Sikh principles and that offenders would be excommunicated.
It's Tehelka again in Houses
April 18, 2001

Cong wants JPC on Tehelka
April 17, 2001

Pant begins dialogue on Kashmir
April 16, 2001

Congress boycotts all-party meeting
April 15, 2001
India, Iran vow to fight terrorism
April 14, 2001
Vajpayee calls on Khamenei
April 13, 2001

Police arrests Zaffarwal
April 12, 2001

Teheran Declaration signed
April 11, 2001

Vajpayee to convene all-party meeting
April 10, 2001
Yet another case against Verma
April 9, 2001