ITI in Morni soon: Chautala
Panchkula, April 27
Announcing that an ITI would be opened in Morni soon to impart technical skills to the youth, the Chief Minister of Haryana, Mr Om Prakash Chautala, said that providing employment to them was an even greater challenge than educating them.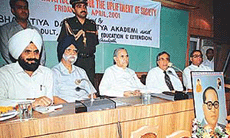 Babu Parmanand, Governor, Haryana (centre), along with Dr Ajaib Singh, Dr K.S. Raju (on his left), and Dr Ashok Sahini at a seminar on 'Role of Dr B.R. Ambedkar for Uplift of Society' in the ICSSR complex in Panjab University on Friday. — A Tribune photograph
'Is Constitution being implemented'
Chandigarh, April 27
Babu Parmanand, Governor of Haryana, took a dig at the actual status of the implementation of the Preamble of the Indian Constitution showing the wide gap between the paper and the real existing conditions.
Students seek compensation
Chandigarh, April 27
In what is being considered as a serious lapse on part of Panjab University just 22 days into the university undergraduate examinations, there have been three instances of the question paper reaching late in some centres in the city. While students of a city college have given a representation to the university authorities for compensation for the delay in getting question paper, the university authorities state that although they do not have a facility for such a compensation, the representation would be looked into.
Paper evaluators threaten stir
Chandigarh, April 27
In what might hamper Panjab University's promise of timely declaration of results of various undergraduate and postgraduate examinations, the 200 odd teachers involved in the evaluation process in the university have given a written ultimatum to the PU authorities that they are likely to go on a lightening strike any day after May 1 in case their demand of increase in remuneration for evaluation work is not met.


HIGH COURT
Jindal 'doesn't need' security
Chandigarh, April 27
Modifying its earlier orders, a Division Bench of the Punjab and Haryana High Court today ruled that the state of Haryana need not provide security to Mr Om Parkash Jindal, MLA.
Pre-arrest bail for Engineer-in-Chief

MP impleaded in case against kin

Explain fettering of man, police told
Chathrath is High Court Bar chief
Chandigarh, April 27
Defeating his nearest rival by a margin of 289 votes, Mr Gopal Krishan Chathrath was re-elected President of the Punjab and Haryana High Court Bar Association this evening. Mr Amarjit Singh Jattana was elected Vice-President.
DISTRICT COURTS
Bail plea of MCC man dismissed
Chandigarh, April 27
The UT Additional Sessions Judge today dismissed the anticipatory bail plea moved by an Inspector of the Municipal Corporation of Chandigarh, Jatinder Pal Singh, in a case of corruption.
Judicial remand

Civil suit

Remand for PO
Lok Adalats to solve pending cases
Chandigarh, April 27
A novel scheme is being launched in which cases pending in police stations will come under the purview of the Lok Adalats and will be settled amicably, disclosed the District and Sessions Judge, Mr H.S. Bhalla, who is the chairman of the district Legal Services Authority, Chandigarh, at a meeting here today.
Forum penalises Anand Boutique
Chandigarh, April 27
The UT District Consumer Disputes Redressal Forum-II, has directed the M/S Anand Boutique, Sector 27, to pay a compensation to Ms Kanchan Aggarwal, a city resident.