THE TRIBUNE MAGAZINES
On Mondays

On Sundays
On Saturdays
G-15 summit opens amid turmoil
Jakarta, May 28
Foreign Ministers from Asia, Africa and Latin America shrugged off the political turmoil in host Indonesia as they opened long-scheduled meetings today to hash out plans for poor countries to get more out of information technology and globalisation.
Clash over running gurdwara
London, May 28
A clash between rival factions at a Sikh gurdwara in Coventry led to 20 arrests and the seizure of ceremonial swords and daggers, the police in the city in the English Midlands said today.
IN PASSING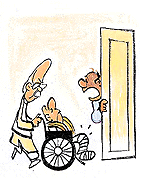 Dr Ranawat is available for knee replacement of human beings, but not of political parties!

by Sandeep Joshi
VHP leader hurt in bomb blast
Ayodhya (UP), May 28
The Vishva Hindu Parishad (VHP) leader and Vice-President of the Ram Janambhoomi Trust, Mahant Nritya Gopal Das, and four others were injured in a bomb attack early today at Ahilya Ghat on the bank of Saryu, VHP sources said.
Cyclone heading towards Gujarat
Gandhinagar, May 28
The severe cyclonic storm over east central Arabian Sea, heading towards Gujarat at a speed of 70 to 80 km per hour, was expected to strike coastal Veraval and Nalia late tonight even as over 17,000 persons have been shifted to safer places by the state authorities.
Gag chokes PU teachers
Chandigarh, May 28
"Any dissatisfaction with decisions of officials of the university or its bodies and their open criticism through Press statements would be construed as an unconstitutional and indisciplinary activity," reads the April 25 decision of the Syndicate of Punjabi University against which teachers are up in arms claiming it to be a direct attack on their "freedom of expression".
PDA, Chaoba Cong both decide to stake claim
May 28, 2001
GoM for more powers to Centre
May 27, 2001
PM sends letter to Musharraf
May 26, 2001
Birdhwal ammunition dump on fire
May 25, 2001
J&K ceasefire off, PM invites Musharraf for talks
May 24, 2001
Samata part of NDA: George
May 23, 2001
Samata leaves it to George
May 22, 2001
Samata reschedules executive meeting
May 21, 2001
Decision on J&K truce extension soon: Advani
May 20, 2001
Badal pleads for 'blacklisted' Sikhs
May 19, 2001
Cabinet expansion in early June
May 18, 2001