THE TRIBUNE MAGAZINES
On Mondays

On Sundays
On Saturdays

Prime Minister Atal Behari Vajpayee addresses mediapersons at Manali on Tuesday.
PM's bonanza for Himachal Pradesh
Manali, May 29
Prime Minister Atal Behari Vajpayee today assured Himachal Pradesh that the Centre would make all possible efforts to help the state secure its due share in BBMB projects, but added that while doing so the legitimate interests of the neighbouring states would be fully protected.
IN PASSING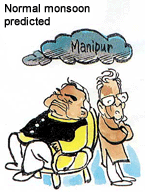 I hope prediction will come true, Atalji!
by Sandeep Joshi
19 Manipur BJP MLAs desert party
New Delhi, May 29
Political uncertainty in Manipur deepened a day after the BJP leadership vetoed the move by its state unit to form an alternative government with 19 out of its 26 MLAs deserting the party today.
PTU Director undergraduate?
Jalandhar, May 29
The functioning of the Punjab Technical University has come under a cloud as the Punjab and Haryana High Court has issued notice of motion to its Vice-Chancellor and others asking them to submit details related to educational qualifications of its Director.
Issue travel papers to Chohan: HC
Chandigarh, May 29
Nearly 20 years after the passport of the "self-styled president of Khalistan", Dr Jagjit Singh Chohan, was revoked, Mr Justice V.K. Jhanji of the Punjab and Haryana High Court today directed the Union of India and other respondents to issue travel documents to the petitioner for enabling him to return to India.


Gagging of dons: CM intervenes
Chandigarh, May 29
After watching the growing crisis at Punjabi University, Patiala, from the gallery for the past over three months, the Chief Minister, Mr Parkash Singh Badal, today decided to set things right.
India says no to referendum
May 29, 2001

PDA, Chaoba Cong both decide to stake claim
May 28, 2001
GoM for more powers to Centre
May 27, 2001
PM sends letter to Musharraf
May 26, 2001
Birdhwal ammunition dump on fire
May 25, 2001
J&K ceasefire off, PM invites Musharraf for talks
May 24, 2001
Samata part of NDA: George
May 23, 2001
Samata leaves it to George
May 22, 2001
Samata reschedules executive meeting
May 21, 2001
Decision on J&K truce extension soon: Advani
May 20, 2001