Wednesday, May 30, 2001, Chandigarh, India


M A I N N E W S
Asians clash with skinheads
London, May 29
Close on the heels of the riots in Oldham, near Manchester, a battle between Asian youths and skinheads in Buckinghamshire ended in gunshots, witnesses have claimed.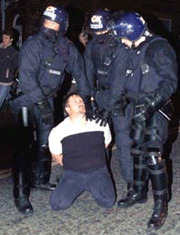 Riot police arrest a man in Oldham, England, late Monday. Twenty-one people were arrested after a night of sporadic violence on the streets of the town, police said on Tuesday. Eighteen white youths and three Asian youths were held on suspicion of public order offences, affray and possession of an offensive weapon. AP/PTI photo

One Asian claimed that the events in the town of Aylesbury, with a population of 60,000 including about 5,000 ethnic minorities, predominantly Pakistani, began on Saturday when an Asian boy was attacked by skinheads in a park.
On Sunday night, up to 60 Asian youths and some Black teenagers, armed with cricket and baseball bats, bottles and bricks, descended on a house where a group of skinheads were partying.
The witnesses alleged that the skinheads taunted the Asians, saying "Combat 18 (a neo-Nazi group) are going to get you tonight."
The youths responded with racial abuse, hurling missiles at the windows and doors, and smashing three cars and a van parked outside. According to neighbours, three shots were fired at the house.
The police said reports of a firearm were "speculation", but one Asian man present, Said Khan, said, "One of the Asian boys let off a gun to let them know we mean business."
After the shots, the Asian crowd melted away, and about seven skinheads ran out armed with knives, baseball bats and a nunchuck, a martial arts weapon.
A police helicopter arrived overhead soon after, followed by officers who spread out in search of the Asian crowd. The skinheads retreated into the house following a brief stand-off with the police, the witnesses said.
The police arrested 24 persons following the incident. Last night, four White men were charged.
In a joint statement with Mayor of Aylesbury Raj Khan, the Thames Valley police said the situation was not linked to rioting in Oldham.
Meanwhile, British Prime Minister Tony Blair has blamed "bad and regressive" motives of White extremists for stirring up recent racial conflict in Oldham, a suburb of Manchester, but warned the Asian youths that there could be no excuse for their lawlessness either. PTI, AFP