Wednesday, May 30, 2001, Chandigarh, India



S P O R T S
Sampras, Safin advance; Norman falls
Paris, May 29
Women's fourth seed Jennifer Capriati and men's number two seed Marat Safin steamed through to the second round of the French Open in baking hot conditions today.
Gopi helps India blank Austria
Seville (Spain), May 29
All-England champion Pullela Gopichand came up with another sterling performance as India stormed past Austria 5-0 in the Sudirman Cup team event of World Badminton Championships here today to stay on course for a promotion to group 2 in the next edition in 2003.
Don't jump the gun, sprinters told
Eugene, May 29
International Amateur Athletic Federation President Lamine Diack has said disgruntled sprinters are jumping the gun in their condemnation of possible changes to false start rules.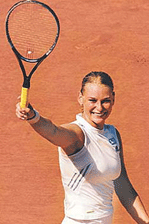 Barbara Schett of Austria reacts after upsetting Venus Williams of the USA in the first round of the French Open at Roland Garros Stadium on Monday. Schett won 6-4, 6-4.
— Reuters photo