Saturday, June 16, 2001, Chandigarh, India


N A T I O N
Law to rein in hostile witnesses in offing
New Delhi, June 15
The Centre today said it was considering a proposal by the Law Commission to amend law to curb the tendency among witnesses to turn hostile under the influence of money and muscle power in criminal cases.
Scholars flay move to curb intellectual freedom
New Delhi, June 15
The country's academic community has slammed the Centre's reported moves to curb intellectual freedom and have drawn parallels with the Taliban milita's regime in the trouble-torn Afghanistan.
Samata flays widening of Naga truce area
New Delhi, June 15
The Samata Party, a prominent ally of the Vajpayee government, today strongly opposed the enlargement of the ambit of the Centre-NSCN (I-M) ceasefire to Naga-inhabited areas in other northeastern states and demanded an all-party meeting to deliberate the issue, saying that it could have "far-reaching consequences".
Ceasefire: Advani assures Marwah
Imphal, June 15
Union Home Minister L.K.Advani today gave a personal assurance to Manipur Governor Ved Prakash Marwah that there was no question of agreeing to anything that would threaten the state's territorial integrity.
Defence unions stage dharna
Dehra Dun, June 15
Trade unions of different defence organisations staged a dharna in front of the Defence Electro Applications Laboratory (DEAL) here today, demanding the immediate removal of Mr Amarjit Singh Bains from the post of Director, DEAL, and the reinstatement of Mr Prabhu Dayal Dhandriyal, Senior Technician, who was suspended by Mr Bains, for the alleged leaking of defence documents to public.
Indian trade unionists burn an effigy of Indian Prime Minister Atal Behari Vajpayee during a demonstration in New Delhi on Friday. The trade unionists were protesting against policies of the World Bank, the IMF and the World Trade Organisation, which they said caused hardship to the Indian working people.
— Reuters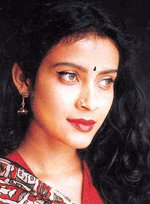 Nandana Dev Sen, daughter of Nobel economics prize winner Amartya Sen, is seen in a still from her movie 'Seducing Maarya' in this undated photo. Fresh from her theatre debut playing a young woman traumatised by childhood sexual abuse, Sen is being tipped by critics in India as an actress to watch out for. Reuters

Defence lab withdraws facility from Army
June 15, 2001
Maharashtra to make Enron papers public
June 14, 2001
Mamata for rejoining NDA govt
June 13, 2001
Indo-Bangla talks today
June 12, 2001
Fraud case against 4 DD, Prasar Bharti officials
June 11, 2001
WBHRC questions NHRC's jurisdiction
June 10, 2001
Centre not to recall TN Governor: Advani
June 9, 2001
Trinamool Cong heading for split
June 8, 2001
India open to talks on all issues: PM
June 7, 2001
SP plans 'janandolan' in Uttar Pradesh
June 6, 2001