Xen booked in corruption case
Bathinda, June 15
A case under Section 13 (2) of the Prevention of Corruption Act and Section 409 of the IPC for criminal breach of trust has been registered in the Nahianwala police station, against an executive engineer (Xen) of the Building and Roads (B and R) Department and a contractor for their alleged involvement in the misappropriation of money in 1993 in the execution of premix coating of a link road of this district.

Moving towards e-governance
Fatehgarh Sahib
Fatehgarh Sahib has become the first district in Punjab where all government officials are to be given special comprehensive training in the fundamentals of computers and the use of the Internet and e-mail facilities so that the pilot e-governance project may be implemented successfully.



Poll: Lok Bhalai Party releases 8 names
Faridkot, June 15
All-India Lok Bhalai Party has finalised the first list of its eight candidates for the forthcoming assembly elections in Punjab. They include Mr Avar Singh Mullanpuri (Raikot), Mr Paramjit Singh Sidhwan (Ludhiana rural), Mr Jagjit Singh Lopo (Jagraon), Mr Nachattar Singh Sidhu (Rampura), Mr Bhola Singh Virk (Barnala), Mr Balwinder Singh Mahinangal (Talwandi Sabo), Mr Jodha Singh Mann (Mansa) and Mr Mahender Singh Joga.

Govt violating norms: Singla
Patiala, June 15
Mr Sant Ram Singla, a former Member of Parliament and Vice President, PPCC, in a statement issued here yesterday criticised the move of the Akali-BJP government to hand over administrative power to its party leaders without any authority or the backing of the law.

Cong ex-MP lashes out at Badal govt
Nawanshahr, June 15
Ms Nirmala Shaktawat, a former Congress MP from Rajasthan, while talking to mediapersons here yesterday at the Punjab Mata Vidhyawati Bhavan, accused the Badal government of misusing funds and resurrecting terrorism for getting electoral gains in the ensuing Assembly elections.



Lawyers suspend 67-day-old dharna
Sangrur, June 15
In view of summer vacations in the judicial courts, the local Districts Bar Association has decided to suspend its 67 days old dharna and 61 days old relay fast for a month from June16. However, the "no work" campaign by the local lawyers will continue for an indefinite period.

Probe spending on health drive: PCMS
Amritsar, June 15
The Punjab unit of the PCMS Association (district union) has demanded an inquiry into an amount spent over a fortnight-long family health awareness campaign which concluded here today.

Threat to disrupt 'sangat darshan'
Budhlada, June 15
Even as a near complete bandh was observed in the town by residents in protest against the indifferent attitude of the authorities concerned in connection with the restarting of a local sugar mill, activists of the Budhlada Khand Mill Bachao Action Committee today threatened that they would not allow Mr Parkash Singh Badal to hold a sangat darshan in any part of Mansa district.

Waiting for radiotherapy facilities to start
Patiala, June 15
Red tape is coming in the way of treatment of cancer patients in the Government Rajindra Hospital here with radiotherapy treatment having been discontinued in the hospital since last year even though the hospital has the funds to restart the facility.

Renewal of registration flayed
Malerkotla, June 15
The move to renew the registration of GAMS/BAMS doctors by the Board of Ayurvedic and Unani Systems of Medicine has been condemned by the National Integrated Medical Association. Dr Pawan Vashishat, president, and Dr Kamal Bharti, press secretary of the association, in a joint press statement here yesterday said the renewal of registration was against the spirit of law.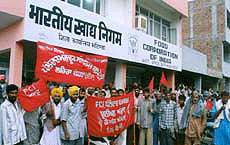 Palledars of the Food Corporation of India (FCI) hold a rally in front of the office of the District Manager of the FCI at Bathinda on Friday against privatisation of the corporation.
— A Tribune photo
FCI palledars stage rally
Bathinda, June 15
To show resentment against privatisation of the Food Corporation of India members of the All-India FCI Labourers Federation today held a rally in front of the office of the District Manager of the corporation here.
Traffic enforcement cell inaugurated
Bathinda, June 15
Mr Gurdas Singh Badal, former MP, said today that to prevent the road accidents every driver should follow traffic rules and should not drink intoxicants while driving. Mr Gurdas while inaugurating a highway integrated traffic enforcement cell at Jassi Baghwali village on the Bathinda-Dabwali road said the formation of such units would prove to be helpful for the vehicle drivers.
Vijay Chopra gets NTAS journalism award
Patiala, June 15
The National Theatre Arts Society has honoured Vijay Kumar Chopra, Editor-in-Chief of the Hind Samachar group, at a recent function held at the Dr Khusdeva Singh Leprosy Colony in the city.
438 family welfare camps
Patiala, June 15
As many as 438 camps have been started by 271 medical teams and about 20,000 people have been treated under the free medical check-up and family welfare camp. This was stated by Mr Manjit Singh Narang, Subdivisional Magistrate, while speaking at the closing ceremony of a camp held at Kalar Bhani village here today. The camp was organised to honour late Bhagwan Swaroop Goel, a social worker.
154 health camps held
Bathinda, June 15
AIDS awareness fortnight was organised in the district by the local health department from June 1 to 15. The concluding function was organised at the local Civil Hospital and an awareness camp and a medical check up camp was also organised today.
Bank staff stage dharna
Bathinda, June 15
Employees of Faridkot-Bathinda Kshetriya Gramin Bank today staged a dharna in front of the head office of the bank. The employees complained that clerks and peons of the bank had been denied promotions since long.
Rs 18.9 lakh relief paid to farmers
Bathinda, June 15
Mr R. Venkatratnam, Deputy Commissioner, said on Wednesday that Rs 18.9 lakh was paid to farmers whose crops were destroyed due to the untimely rain on July 15 and 16, last year, about which a special girdwari was held a few months ago.
Rs 2.25 crore for bundhs
Patiala, June 15
A sum of Rs 2.25 crore will be decided to spent on the construction of bundhs and to increase the depth of the Ghagar river near the Ghanaur area so that the people residing there do not suffer difficulties due to floods.
Jail guards seek 13 months salary
Moga, June 15
Members of the All Punjab Jail Guards Association at its meeting chaired by its state president Mr Gurdeep Singh Uppal here today congratulated the Punjab Government for appointing Mr R.S. Chalia as Inspector General (Jails). They urged the government to accept their demands.
New Forest Secretary
Chandigarh, June 15
The Punjab Government ordered the following postings and transfers today: Mrs Gurbinder Kaur Chahal, Financial Commissioner-cm-Secretary, Forests and Wildlife, will be the new Presiding Officer, State Colleges and Schools Tribunal.
Wife, paramour held for murder
Bathinda, June 15
Paramjit Kaur, a resident of Mandi Kalan village in this district along with his paramour, Narinderpal Singh, was arrested today for their alleged involvement in the murder of Harkaran Singh, husband of Paramjit Kaur, on June 4.
3 killed in road accident
Tarn Taran, June 15
Three persons died in a road accident near Gohalwar village here yesterday. They have been identified as Dr Satish Jain (50), wife of Dr Ghanshyam Das Jain, their son Divya Lok Jain (18) and the driver of the ill-fated Zen-LX car. All deceased were residents of Patti.


Varsity steps to check impersonation
Chandigarh, June 15
Dr P.S. Sandhu, Registrar, Baba Farid University of Health Sciences, today clarified that the university had devised an effective method of avoiding impersonation and the use of unfair means by studying and evaluating procedures being followed by other examining bodies, including the Union Public Service Commission.
Decision on PTI's post resented
Fazilka, June 15
As many as 150 candidates qualified from Kurukshetra University, who had applied for the posts of PTI in Punjab are resentful of the recent decision of the Punjab Government not to consider them for the post.
176 centres set up for B.Ed entrance test
Patiala, June 15
Punjabi University today stated that 176 examination centres have been set up in Amritsar, Jalandhar, Ludhiana, Ropar, Hoshiarpur, Chandigarh, Faridkot, Bathinda, Abohar, Gurdaspur and Patiala for the B.Ed entrance test.