THE TRIBUNE MAGAZINES
On Mondays

On Sundays
On Saturdays
NDA divided on Central rule
New Delhi, July 2
A divided NDA today demanded stern action against the Tamil Nadu Government for the manner in which two Central Ministers and a former state Chief Minister, were taken in custody in pre-dawn swoop on June 30.
1 killed, 4000 held in TN bandh
Chennai, July 2
One person was killed and about 145 buses damaged in sporadic incidents of stone-throwing during the dawn-to-dusk Tamil Nadu bandh called by the NDA today, to condemn the arrest of former Chief Minister M. Karunanidhi and two Union Ministers.
India to renegotiate AJT deal
New Delhi, July 2
India is likely to renegotiate the purchase of advance jet trainers for the IAF with other suppliers following a stalemate in the negotiations with British Aerospace over the price of Hawk aircraft.
In Education Tribune Today
IN PASSING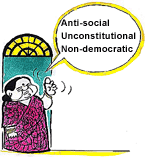 I strongly condemn the Central Government's action against the Governor!

by Sandeep Joshi
New Delhi, July 2
Former cricketer Manoj Prabhakar was arrested by the Uttaranchal police here today and has been sent to Haldwani on transit remand by a Delhi court.
Former Indian Test cricketer Manoj Prabhakar is escorted by the police outside his residence after he was arrested in New Delhi on Monday.
— Reuters photo

4 trapped as building falls
Solan, July 2
At least four persons were buried alive when a seven-storey building located in the Konark hotel locality of the town, about 4 km from here, on the Kalka-Shimla national highway collapsed at about 2.30 p.m.



First batch of yatris arrives in Pahalgam
Srinagar, July 2
The first batch of 3,019 pilgrims arrived in Pahalgam this evening for the darshan of the holy ice lingam of Lord Shiva in the Amarnath cave shrine beginning on Wednesday.
Amarnath yatris board vehicles in Jammu on Monday morning, the first day of the month-long Amarnath Yatra. — Photo M. L. Kak
Tamil Nadu Governor resigns
July 2, 2001
Karunanidhi held in pre-dawn swoop
July 1, 2001
Flexibility, but no compromise on basics
June 30, 2001
Chohan's remarks unwarranted
June 29, 2001
Punjab caught on sticky wicket
June 28, 2001
Pak army drawing up agenda
June 27, 2001
Radicals to be detained
June 26, 2001
Massive shake-up in IT Dept
June 25, 2001
Amritsar bandh evokes mixed response
June 24, 2001
Musharraf to hold office for 5 years
June 23, 2001
President greets Musharraf
June 22, 2001