THE TRIBUNE MAGAZINES
On Mondays

On Sundays
On Saturdays
J&K page: Forces perform an arduous task
Baltal (Base Camp), July 3
The security forces are performing an arduous task in protecting the Pehalgam-Chandanwari-Panchtarni as well as the Baltal-Sangam routes to the holy Amarnath cave.


A woman police officer searches the bag of a pilgrim at Chandanwari, 115 km south of Srinagar, on Tuesday. — AFP
No need to panic, says Sinha
New Delhi, July 3
The Union Finance Minister, Mr Yashwant Sinha today said that the announcement by the Unit Trust of India to the freeze sale and purchase of US-64 units was distressing but assured investors that their interests would be protected.
MoD to go ahead with Vijay Divas
New Delhi, July 3
After the initial dithering the Ministry of Defence has decided to go ahead with the celebrations to mark the second anniversary of the Indian victory over Pakistan in Kargil two years ago, just days after the official visit of President Pervez Musharraf.
In Health Tribune Today
IN PASSING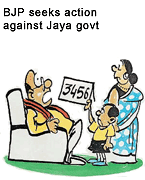 Beta, there is something wrong in your counting. It should be 356.

by Sandeep Joshi
45 SGPC employees demoted
All were promoted by Bibi Jagir Kaur
Amritsar, July 3
As many as 45 SGPC employees promoted during the presidentship of Bibi Jagir Kaur have been demoted, causing resentment and insecurity among the employees.
Manoj Prabhakar hospitalised
Dehra Dun, July 3
Former Teat cricketer Manoj Prabhakar, arrested in connection with a cheating case and admitted to a private clinic following suspected brain stroke, was today remanded to 14 days judicial custody by a court.
'Gadar' sells like hot cakes in Pak



Plaque replaces Indira's portrait
Shimla, July 3
Eleven days before the arrival of the Pakistani President, Gen Pervez Musharraf, in Delhi for peace talks between the two countries, the historic Simla Accord between India and Pakistan completes 29 years today.

A plaque of a pigeon has replaced the portrait of Indira Gandhi at Raj Bhavan, Shimla, where the Simla Accord was signed between India and Pakistan on July 3, 1972.
Karunanidhi not to seek bail
July 3, 2001
Tamil Nadu Governor resigns
July 2, 2001
Karunanidhi held in pre-dawn swoop
July 1, 2001
Flexibility, but no compromise on basics
June 30, 2001
Chohan's remarks unwarranted
June 29, 2001
Punjab caught on sticky wicket
June 28, 2001
Pak army drawing up agenda
June 27, 2001
Radicals to be detained
June 26, 2001
Massive shake-up in IT Dept
June 25, 2001
Amritsar bandh evokes mixed response
June 24, 2001
Musharraf to hold office for 5 years
June 23, 2001